Click image for BBB rating
See our Privacy Policy
Welcome to Spaightwood Galleries, Inc.
120 Main Street, Upton MA 01568-6193
You can follow us on Facebook and Twitter!
We blog regularly on Facebook and announce special events and special sales on both sites.
Frank Stella (American, b. 1936): Minimalism and More
Frank Stella was born on May 12, 1936, in Malden, Massachusetts. After attending high school at Phillips Academy in Andover, Massachusetts, he went on to Princeton University, where he painted and majored in history. Early visits to New York art galleries had an impact upon his artistic development. Stella moved to New York in 1958 after his graduation.

Stella's rise in the art world was meteoric: in 1955, he was a sophmore at Princeton University; in 1959, several of his paintings were included in Three Young Americans at the Allen Memorial Art Museum at Oberlin College, as well as in Sixteen Americans at the Museum of Modern Art in New York (1959–60). Stella joined dealer Leo Castelli's stable of artists in 1959. In his early series, including the Black Paintings (1958–60), Aluminum Paintings (1960), and Copper Paintings (1960–61), Stella cast aside illusionistic space for the physicality of the flat surface and deviated from the traditional rectangular-shaped canvas.

Major retrospectives at MOMA in 1970 and again in 1987 have surveyed the multiple series - the Aluminum Paintings, Irregular Polygons, Protractors, Circuits, Cones and Pillars among them. Stella is represented in every major museum around the world. Stella's work was also included in several important exhibitions that defined 1960s art, among them the Solomon R. Guggenheim Museum's The Shaped Canvas (1964–65) and Systemic Painting (1966). Stella's Irregular Polygon canvases (1965–67) and Protractor series (1967–71) further extended the concept of the shaped canvas. Stella began his extended engagement with printmaking in the mid-1960s, working first with master printer Kenneth Tyler at Gemini G.E.L. In 1967, Stella designed the set and costumes for Scramble, a dance piece by Merce Cunningham. During the 1970s, Stella introduced relief into his art, which he came to call "maximalist" painting for its sculptural qualities. Ironically, the paintings that had brought him fame before 1960 had eliminated all such depth. After introducing wood and other materials in the Polish Village series (1970–73), created in high relief, he began to use aluminum as the primary support for his paintings. As the 1970s and 1980s progressed, these became more elaborate and exuberant. Indeed, his earlier Minimalism became baroque, marked by curving forms, Day-Glo colors, and scrawled brushstrokes. Similarly, his prints of these decades combined various printmaking and drawing techniques. In 1973, he had a print studio installed in his New York house.

From the mid-1980s to the mid-1990s, Stella created a large body of work that responded in a general way to Herman Melville's Moby Dick. During this time, the increasingly deep relief of Stella's paintings gave way to full three-dimensionality, with sculptural forms derived from cones, pillars, French curves, waves, and decorative architectural elements. To create these works, the artist used collages or maquettes that were then enlarged and re-created with the aid of assistants, industrial metal cutters, and digital technologies.

In the 1990s, Stella began making free-standing sculpture for public spaces and developing architectural projects. In 1992–93, for example, he created the entire decorative scheme for Toronto's Princess of Wales Theatre, which includes a 10,000-square-foot mural. His 1993 proposal for a kunsthalle and garden in Dresden did not come to fruition. His aluminum bandshell, inspired by a folding hat from Brazil, was built in downtown Miami in 1999. In 2001, a monumental Stella sculpture was installed outside the National Gallery of Art in Washington, D.C.

Stella's art has been the subject of several retrospectives in the United States, Europe, and Japan. Among the many honors he has received was an invitation from Harvard University to give the Charles Eliot Norton lectures in 1983–84. Calling for a rejuvenation of abstraction by achieving the depth of baroque painting, these six talks were published by Harvard University Press in 1986. The artist continues to live and work in New York. (The above depends upon the Guggenheim Museum's biography of Stella)

Selected Bibliography: Richard Axsom, The Prints of Frank Stella 1967-1982: A Catalogue Raisonné (NY: Hudson Hills Press, 1983); Judith Goldman, Frank Stella Prints 1967-1982 (NY: Whitney Museum of American Art, 1983;Sidney Guberman, Frank Stella an Illustrated Biography (NY: Rizzoli, 1995); Gudrun Inboden, Johannes Meinhardt and Jens Kraubig, Frank Stella Black Paintings 1958-1960, Cones and Pillars 1984-1987 (Stuttgart Staatsgalerie, 1988); Robert Saltonstall Mattison, Masterworks in the Robert and Jane Meyerhoff Collection: Jasper Johns, Robert Rauschenberg, Roy Lichtenstein, Ellsworth Kelly, Frank Stella (NY: Hudson Hills Press, 1995); John McLean, Frank Stella: A Retrospective Exhibition Circulated Under the Auspices of the International Council of the Museum of Modern Art, New York (London: Hayward Gallery/Arts Council of Great Britain, 1970); Declan McGonagle, Frank Stella. Works and New Graphics (London: Institute of Contemporary Art, 1985); Alfred Pacquement, Frank Stella (Paris: Flammarion 1988); Brenda Richardson with assistance from Mary Martha Ward, Frank Stella: The Black Paintings (Baltimore: The Baltimore Museum of Art, 1976); Robert Rosenblum, Penguin New Art I: Frank Stella (Harmondsworth: Penguin Books, 1971); Lawrence Rubin, , Frank Stella: paintings, 1958 to 1965. A catalogue Raisonne (NY: Stewart,Tabori & Chang, 1986); William S. Rubin, Frank Stella (NY: Museum of Modern Art, 1978, new editions 1985, 1985); William S. Rubin, Frank Stella. 1970-1987 (Paris, Centre Pompidou, 1988); Frank Stella, Working Drawings Zeichnungen. 1956-1970 (Basel: Ausstellungskatalog Kunstmuseum, 1980).
Luis Miguel Dominguin (Axsom 36). Original lithograph printed in gray ink, 1970. 75 signed and numbered impressions on Special Arjomari paper published by Gemini G.E.L. One of Stella's most exhibited prints, this work was shown in at least 18 museum shows bewtween 1971 and 1986. In the winter of 2005, one of Stella's early paintings with an image similar to this one sold at auction for a record price in excess of $2,000,000. Image size: 406x559mm. Price: SOLD.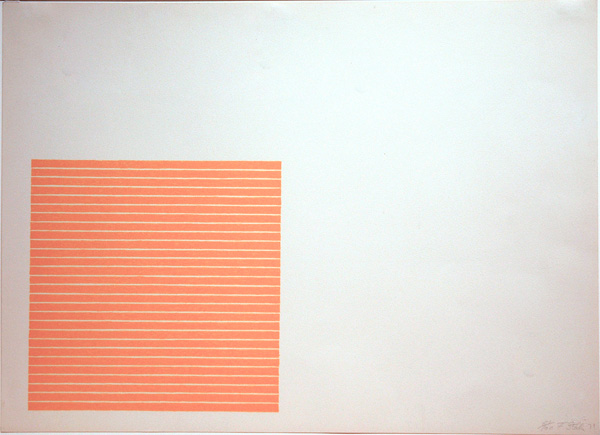 Palmito Ranch (Benjamin Moore Series) (Axsom 62). Original lithograph printed in orange ink, 1971. 100 signed and numbered impressions on Special Arjomari paper published by Gemini G.E.L. One of Stella's most exhibited prints, this work was shown in at least 18 museum shows bewtween 1971 and 1986. In the winter of 2005, one of Stella's early paintings with an image similar to this one sold at auction for a record price in excess of $2,000,000. Image size: 406x559mm. Price: $5000.

Depite the appearance of this photo, the paper is uniformly white with no discoloration.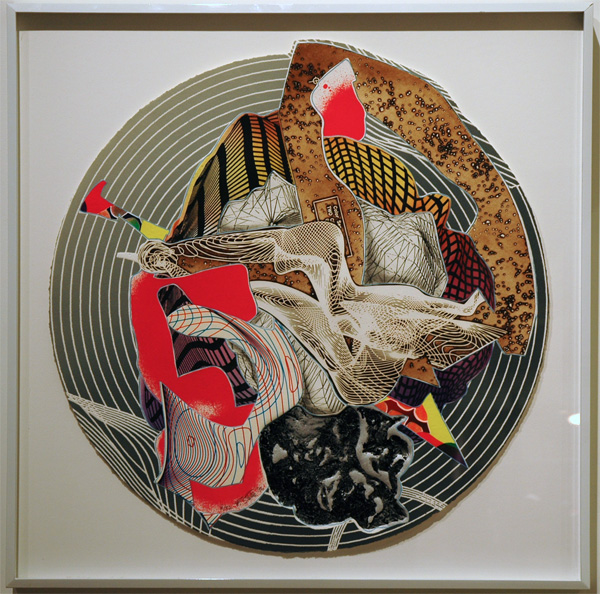 Atvatabar. Original lithograph, intaglio, stamping, screenprint, 1996. 32 signed and numbered impressions on TGL handmade paper plus several artist's proofs. This is part of Stella's Imaginary Places II series. Published by Tyler Graphics (Mount Kisco, NY) with their blindstamp. Image size: 665x665mm. Price: SOLD.

Photographed in the frame through the plexiglas—the image is actually much more vibrant than the photograph suggests.
Spaightwood Galleries, Inc.
To purchase, call us at 1-800-809-3343 (1-508-529-2511 in Upton MA & vicinity) or send an email to spaightwood@gmail.com.
We accept AmericanExpress, DiscoverCard, MasterCard, and Visa.
We also accept wire transfers and paypal.

For directions and visiting information, please call. We are, of course, always available over the web and by telephone (see above for contact information). Click the following for links to past shows and artists. For a visual tour of the gallery, please click here. For information about Andy Weiner and Sonja Hansard-Weiner, please click here. For a list of special offers currently available, see Specials.

All works are sold with an unconditional guarantee of authenticity (as described in our website listing).

Go back to the top of this page.

Visiting hours: Saturday 10:00 am to 5:00 pm and Sunday noon to 6:00 pm and other times by arrangement.
Please call to confirm your visit. Browsers and guests are welcome.

Spaightwoodgalleries.site