Click image for BBB rating
See our Privacy Policy
cool="cool" width="785" height="7089" border="0" cellpadding="0" cellspacing="0" gridx="16" showgridx="showgridx" usegridx="usegridx" gridy="16" showgridy="showgridy" usegridy="usegridy" bgcolor="#99ccff">
---

Spaightwood Galleries
"Masters of Modernity"
October 27 2007 to February 3 2008
Just as the Renaissance consciously rejected their immediate predecessors and proclaimed themselves to be a "new birth" of artistic spirit and vision, a return to a lost ideal of perfection, so, at the beginning of the twentieth century, a group of artists consciously rejected their immediate predecessors and proclaimed that the "old" art was over and that a new age demanded a new art, an art that broke decisively with the past to create a new age of artistic spirit and vision, an art appropriate to the new world being born from the ashes of the old. Where the Impressionists had claimed to bring a new scientific perception of reality, Picasso and Braque's experiments remade "reality" by simultaneously showing objects in three dimensions and from simultaneous planes of perception. Where the German Expressionists wanted to color reality with their feelings about it, Matisse and the Fauves wanted to remake reality by showing its artificiality by using color to abstract objects and people from their social and natural settings and put them in an artificial space created by art.

Kandinsky took this impulse in a different direction by transforming objects into abstractions that used color and rhythm to remake both the artists who made them and the viewer who saw and surrendered to them as a way of remaking him or herself. According to Ulrike Becks-Malorny, Wassily Kandinsky 1866-1944: The journey to abstraction (Cologne: Taschen, 2007), "Kandinsky regularly acknowledged that he was unable to fully renounce the object in his pictures before 1914. As he explained, however, the objects he depicted arose in him out of pure emotion; they formed themselves in his imagination out of color and line and should therefore be understood by the viewer as abstract" (p. 56). Chagall, like Kandinsky a voluntary exile from a collapsing social order, offered viewers a world liberated from reality by the power of the imagination. Miró, whom Picasso acclaimed as the only painter to take art further than where Picasso had taken it, created imaginary spaces for discovery of inner truths and truths about the world outside the self, offering the possibility for recreating the universe of the self by liberating itself from itself and proclaiming its essential participation with the oneness of (sur)reality. Perhaps Barbara Rose best explains Miró's importance when she notes, "Miró's contribution to current painting is inestimable," and adds: "surrealist space, at least as it was developed by Miró, is open, expansive, indeterminate, as opposed to the closed, finite restrictive space of cubism, with its layered planes and silhouetted shapes. Surrealist space is as fluid as the thought process involved in the technique of free association that inspired surrealist automatism. Certainly it is no accident that the discovery of the unconscious, as well as man's initial experiences in exploring atmospheric outer space, coincided with the conceptualization of a new kind of pictorial space that is both continuous and unbounded."

Giacometti, on the other hand, presents a world in which people and objects seem alienated from each other and themselves while Leger tried to adopt the rhythms of the of the machine into a way of living in a mechanical age.

As we hung the show we were struck by the different "modernities" presented by the works on the walls around us. What links these modern masters is, in fact, their quest for the idea of the "Modern" rather than for a particular end. Modernity, it appears, is not a monolithic concept but a quest, a journey toward an end which for the artists in this show was found in their different, individual visions. See below for a sampler of works from the show.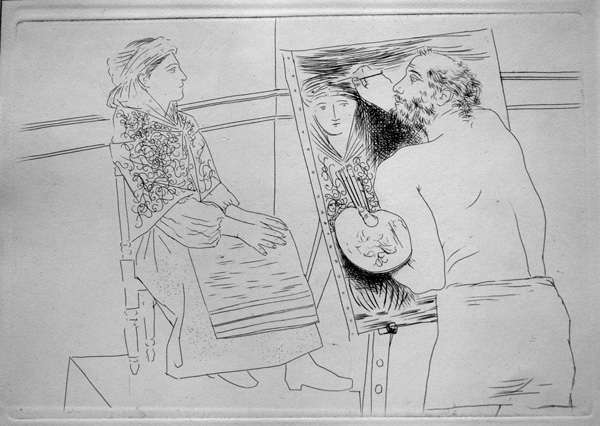 Pablo Picasso (Spanish, 1881-1973), Peintre chauve devant son Chevalet / Bald painter at his easel (B. 87; G. 128/b). Original etching, 1927. 65 signed impressions on Japan plus 340 unsigned impressions (of which 240 are printed on Rives as ours). This etching, commissioned and published by Ambroise Vollard and printed by Louis Fort, was published in 1931 for his deluxe artist's book of Balzac's Le Chef-d'Oeuvre inconnu / The unknown artist's masterpiece. Each pencil-signed portfolio contained 13 unsigned etchings and 67 wood-engravings by Georges Aubert after Picasso's drawings. Illustrated in Picasso: 60 Years of Graphic Works (LA County Museum of Art, 1967, p. 37) and Magdalena M. Moeller, Picasso Druckgraphik . . . aus dem Sprengel Museum Hannover (Propylaen, 1986, p. 82). Image size: 194x278mm. Price: $5500.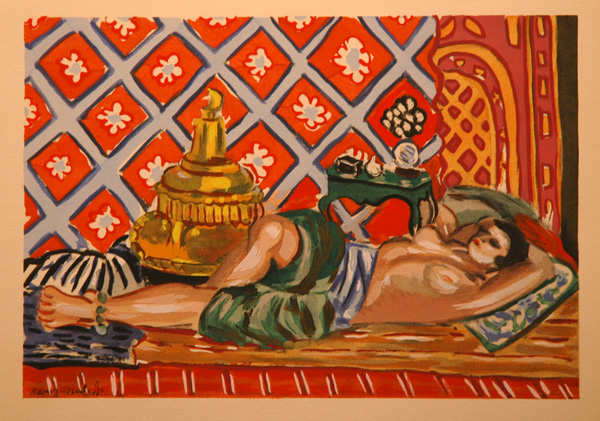 Henri Matisse, Odalisque sur fond rouge. Color pochoir (hand-colored stencil print) after a painting, 1929. 500 impressions for Florent Fels' Henri Matisse, published in Paris by XXe Siecle. The pochoirs were executed under Matisse's supervision. This beautiful hand-colored piece is one of the few early color prints in Matisse's print oeuvre. Image size: 154x224mm. Price: $2,675.
Fernand Léger, The three sisters on a red background (Sapphire E-11). Serigraph after a gouache, 1954. 200 signed and numbered impressions, of which ours is n. 167/200. There are also 1000 impressions signed and dated in the stone. Staining in margins; some cracking at top of image. This work is part of an album of 10 serigraphs after gouaches published by Jean Bruller in Paris and distributed in 1954-55 by La Guilde internationale de la Gravure (Geneva-Paris). One of Leger's most important late works in less than perfect condition. Image size: 453x338mm. Price: $3750.
Marc Chagall (Russia 1887-1985 Paris), L'artiste II (M. 929). Original color lithograph, 1978. 50 signed & numbered impressions, of which this is n. 11/50. This work has just come back from restoration. It is a beautiful image in very good condition. Image size: 330x250mm. Price: $15,000.
Joan Miró, Archipel Sauvage IV / Savage Island IV (Dupin 340). Original color etching and aquatint, 1963. 35 signed & numbered impressions on Arches with a Maeght watermark; this is one of the HC impressions. Individual impressions are hand-wiped and show much variation. Image size: 585x908mm. Price: $33,200.
The Archer (Roethel 79). Original color woodcut, 1908-1909. Edition: 60 impressions for the deluxe edition of Der Blaue Reiter almanac + c. 1200 proofs printed in XXe Siecle in 1938 under Kandinsky's supervision. Another impression of this print (also from the 1938 XXe Siecle edition) is illustrated in Vivian Endicott Barnet, Kandinsky at the Guggenheim (NY: Solomon R. Guggenheim Museum, 1983), p. One of Kandinsky's richest woodcuts. Image size: 164x153mm. Price: $4500.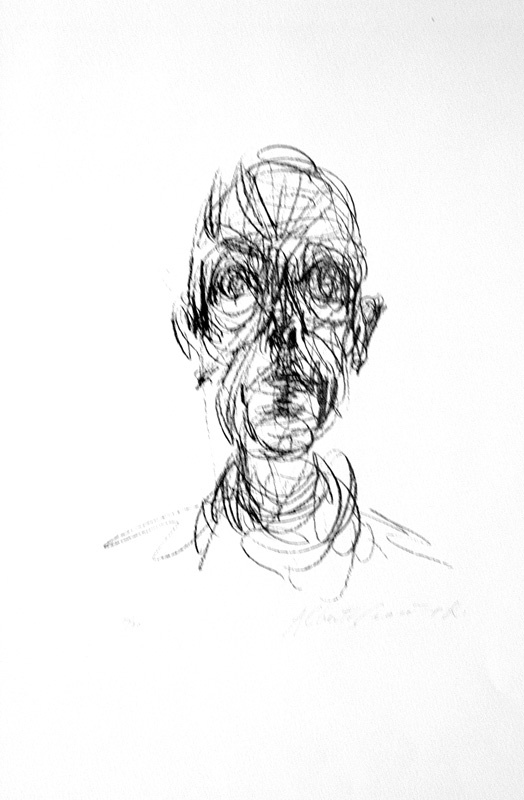 Alberto Giacometti, Head of a man / Diego (Lust 155). Original lithograph, 1961. 90 signed and numbered impressions, of which ours is one. There are also c. 1500 impressions on paper with no margins as published in a 1961 issue of Derrière le Miroir dedicated to Giacometti's work. Giacometti's brother and assistant Diego was also a sculptor, but this is less a portrait than a statement about anxiety and the human condition. Image size: 380x280mm; paper size: 550x378mm (21-5/8x14-7/8 inches). Price: $7600.

Also available: one of the c. 1500 unsigned impressions as published in Derrière le Miroir. Image and paper size: 380x280mm. Price: $850.
Paul Klee, Sommeil d'hiver / Winter's Dream. Original lithograph, 1938. Edition: as published in the deluxe art review Verve in 1938. Signed in the stone. On the reverse there is a black & white lithograph by Joan Miro which incorporates Klee's name and the title of the work. Image size: 349x250mm. Price: $1250.
Georges Braque, Le pigeon noir / The black pigeon (Maeght 1005, Vallier, p. 292). Color etching and aquatint, 1956. Edition: 300 signed and numbered impressions. Ours is a signed proof, annotated H.C. This is part of the series published by Galerie Maeght in the early 1950s with the active cooperation and supervision of the artists. Margins folded back for framing by an earlier owner. Image size: 415x510mm. Price: $6250.
Rene Magritte, La Trahison des images / The Treachery of Images. Original etching, 1952. 950 numbered impressions signed and dated in the plate plus 50 HC impressions. All are also signed with the blind stamp of the Succession Magritte (The Magritte Estate). Printed at Atelier Dutrou in Paris on Velin de Rives. This is the original publication of this etching. Image size: 88x132mm. Price: $1250.

We had planned to include one lithograph and 3 etchings by Magritte in the show, but we ran out of space on the walls. Click here to see the rest of our Magritte works.
Spaightwood Galleries, Inc.
To purchase, call us at 1-800-809-3343 (1-508-529-2511 in Upton MA & vicinity) or send an email to spaightwood@gmail.com. We accept AmericanExpress, DiscoverCard, MasterCard, and Visa.

For directions and visiting information, please call. We are, of course, always available over the web and by telephone (see above for contact information). Click the following for links to past shows and artists. For a visual tour of the gallery, please click here. For information about Andy Weiner and Sonja Hansard-Weiner, please click here. For a list of special offers currently available, see Specials.

Visiting hours: Noon to six Saturdays and Sundays; other times by arrangement. Please call to confirm your visit. Browsers and guests are welcome.

---