Click image for BBB rating
See our Privacy Policy
cool="cool" width="785" height="4481" border="0" cellpadding="0" cellspacing="0" gridx="16" showgridx="showgridx" usegridx="usegridx" gridy="16" showgridy="showgridy" usegridy="usegridy" bgcolor="#99ccff">
---
Spaightwood Galleries
Jonna Rae Brinkman: Finding the Self/Portraying the Self
Jonna Rae Brinkman is a Wisconsin native. Born in Milwaukee, she has lived both in cities and rural areas. After high school she hit the road, with more prolonged stays in Fort Lauderdale, Cape May, and Los Angeles. Jonna came to art late, but her involvement with it (beginning in the Spring of 1992) is deep and all-consuming. Art became for her a way to discover the self from which she had been running away during the years between high school and her return to college in 1991. She quickly discovered that there were few pleasures that matched that of putting paint on paper and canvas, and her love for paint impelled her to the School of the Art Institute of Chicago (where she was awarded both the prestigious Edward Ryerson Award for Painting and a BFA) and then on to Pratt Institute in New York City, where she received her MFA. She had already shown work in a group show in Williamsberg, the "new" SOHO, and had begun selling paintings out of her studio to New York collectors when 9/11 shattered her urban life. Living directly across the East River from the Twin Towers, Jonna experienced 9/11 at close range and began doing what painters do: trying to make sense of reality through their tools: brushes, oil paint, acrylic paint, pastels, watercolors, and graphite. The immediate result was a long series of paintings on canvas and paper devoted to the sights, smells, and sounds of 9/11; after a while, with New York's giant scar always before her eyes, she felt the need to try to assimilate the experience from the sights in her mind's eye, not those burned onto her optic nerve: she returned to Wisconsin and began painting in a studio and in the fields, trying to make sense of the experience.

In her work, Jonna has been exploring where she stands in relation both to American and European Modernism and Post-Modernism and her desire to express her feelings about the natural world around her is always balanced by her sheer delight in the physicality of the paint and the joys of putting it onto surfaces. Brinkman says that when people look at her works, she wants them to see the power of nature as a force in opposition to the materialism of people, including painters who relish—as she does!—the materiality of their medium: "My painting is about color, gesture and markmaking, growing from a certain energy that flows from the weather and nature's largeness compared to the smallness of mankind. It is a very emotional psychological process for me. I like to keep the reality of the work in sync with the physicality of the process. Sometimes you can get hysterics and harmony all in the same painting; I don't often plan the painting before it happens, it's something that just has to appear."

Self-portraits are a constant theme in her work, though the resemblance is not always visible to the eye of the viewer. Spaightwood has been showing Brinkman's work for nearly two years, and in that time we have sold over eighty of her works: there is clearly something about her paintings that reaches out to viewers and pulls them in, and, not infrequently, pulls them back for more. Brimful of talent, Jonna Rae Brinkman is clearly an artist to watch.
Portrait of the Artist, July 2000.
Portrait of the Artist, July 2000.
Self-Portrait: Scream, but don't slam the door again. Oil on paper, 2000. Image size: 610x482mm. Price: SOLD.
Just hold her hand before dying. Oil on paper, 2000. Image size: 385x285mm. Price: $450.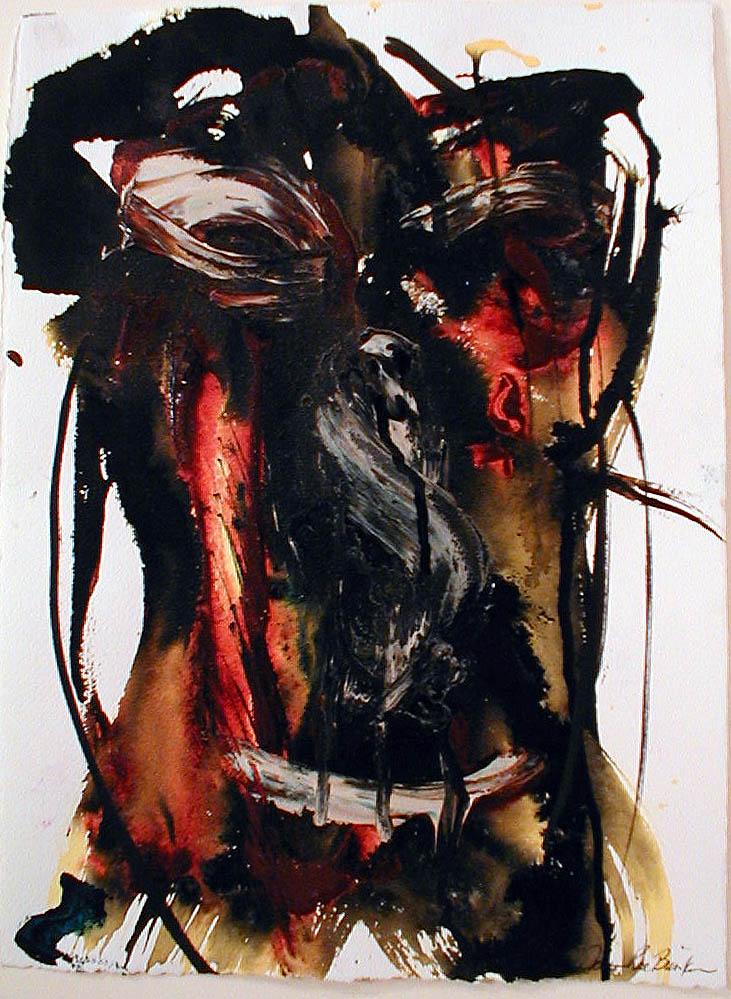 Just go... Oil on paper, 2000. Image size: 385x285mm. Price: $450.
Never spray varnish at me again! Oil on paper, 2000. Image size: 385x285mm. Price: $450.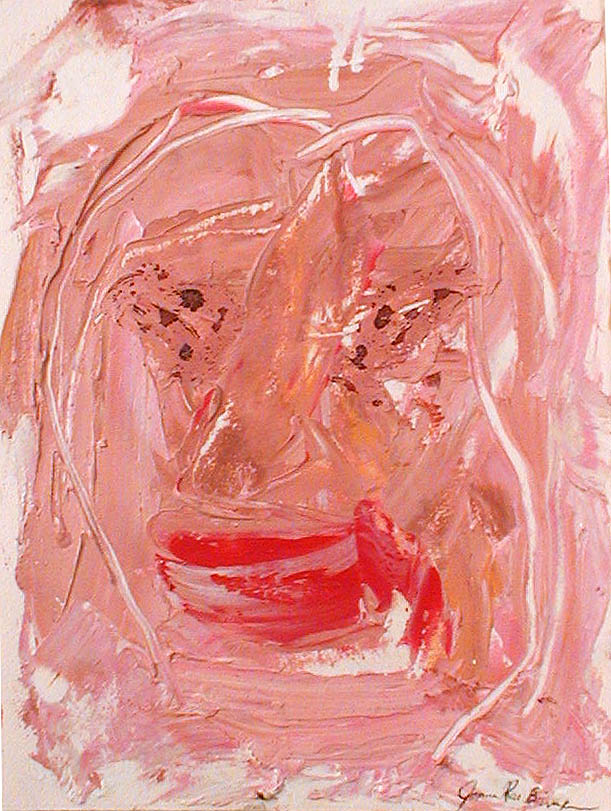 No time for doughnuts or dope. Oil on paper, 2000. Image size: 385x285mm. Price: $450.
Spaightwood Galleries, Inc.
To purchase, call us at 1-800-809-3343 (1-508-529-2511 in Upton MA & vicinity) or send an email to spaightwood@gmail.com. We accept AmericanExpress, DiscoverCard, MasterCard, and Visa.

For directions and visiting information, please call. We are, of course, always available over the web and by telephone (see above for contact information). Click the following for links to past shows and artists. For a visual tour of the gallery, please click here. For information about Andy Weiner and Sonja Hansard-Weiner, please click here. For a list of special offers currently available, see Specials.

Visiting hours: Noon to six Saturdays and Sundays; other times by arrangement. Please call to confirm your visit. Browsers and guests are welcome.

---