Click image for BBB rating
See our Privacy Policy
cool="cool" width="788" height="4497" border="0" cellpadding="0" cellspacing="0" gridx="16" showgridx="showgridx" usegridx="usegridx" gridy="16" showgridy="showgridy" usegridy="usegridy" bgcolor="#99ccff">

Welcome to Spaightwood Galleries, Inc.
120 Main Street, Upton MA 01568-6193
You can follow us on Facebook at http://www.facebook.com/pages/Spaightwood-Galleries-Inc/122951564441757
I blog there regularly and announce special events and special sales.
Last updated: 6/23/2019

Susan Rothenberg: Original Prints
Susan Rothenberg (American, b. 1945) first came to prominence in the 1970s with a series of paintings devoted to the horse. Often in motion, always more or less abstract, the horse became a kind of enactment of a quest for freedom from stasis (even when still) and desire for movement (even when there was no clear destination in mind). Perhaps growing out of her work as an assistant to Nancy Graves, who was then in the midst of creating her camels composed mostly of constructed bones, Rothenberg's horses were plainly quite a lot more than horses. For Plato, the horse was a symbol of the passions running amuck unless guided by the charioteer, reason. Horses were portable thrones for kings, princes, generals (one need only remember Shakespeare's Richard III's desperate cry, "A horse, a horse, my kingdom for a horse" or Harry Hotspur's hope, "That roan shall be my throne," to remember the possibilities they offer to those seeking to join themselves to power, yet in the age of gatling guns and machine guns and bombs and napalm, those possibilites could prove as ephemeral as those who might hope to use them as a vehicle for transcendance. Rothenberg's horses manage to imply both freedom and limitation, power and fragmentation, life and death simultaneously as well as sequentially. Combining hope and despair, her horses were on an interesting journey to nowhere with little hope of a satisfactory pasture when they reached the end of their journey. Michasel Auping cites Francis Bacon's comment about the unsatisfactory state of the artist searching for a myth to support herself or her art: "I think that, if one could find a valid myth today where there was the distance between grandeur and its fall, of the tragedies of Aeschylus and Shakespeare, it would be tremendously helpful. But when you're outside of a tradition, as every artist is today, one can only want to record one's feelings about certain situations as closely to one's own nervous system as one possibly can" (Auping, Susan Rothenberg Paintings and Drawings (NY: Rizzoli, 1992), p. 28. Perhaps William Butler Yeats described the artist's dilemma most movingly in the final section of one of his last poems, "The Circus Animals' Desertion":
Those masterful images because complete
Grew in pure mind, but out of what began?
A mound of refuse or the sweepings of the street,
Old Kettles, old bottles, and a broken can,
Old iron, old bones, old rags, that raving slut
Who keeps the till. Now that my ladder's gone,
I must lie down where all the ladders start,
In the foul rag-and-bone shop of the heart.

As Mark Rosenthal's video in the PBS Series Art in the 21st Century, shows, Rothenberg holds some definite opinions about the art of making and responding to art. For her, "the paintings are a more or less battle with myself." She adds, "I don't want to get too literal about things," but sometimes you have to: "It is what it is and I like it. . . I want the viewer to do the work too. . . . I'm trying for truth." But truth can be tricky. Truth can be objective, but it is always subjective

As the anonymous author of the PBS website's discussion of notes, "Susan Rothenberg was born in Buffalo, New York, in 1945. She received a BFA from Cornell University. Her early work—large acrylic, figurative paintings—came to prominence in the 1970s New York art world, a time and place almost completely dominated and defined by Minimalist aesthetics and theories. The first body of work for which Rothenberg became known centered on life-size images of horses. Glyph-like and iconic, these images are not so much abstracted as pared down to their most essential elements. The horses, along with fragmented body parts (heads, eyes, and hands) are almost totemic, like primitive symbols, and serve as formal elements through which Rothenberg investigated the meaning, mechanics, and essence of painting. Rothenberg's paintings since the 1990s reflect her move from New York to New Mexico, her adoption of oil painting, and her new-found interest in using the memory of observed and experienced events (a riding accident, a near-fatal bee sting, walking the dog, a game of poker or dominoes) as an armature for creating a painting. These scenes excerpted from daily life, whether highlighting an untoward event or a moment of remembrance, come to life through Rothenberg's thickly layered and nervous brushwork. A distinctive characteristic of these paintings is a tilted perspective, in which the vantage point is located high above the ground. A common experience in the New Mexico landscape, this unexpected perspective invests the work with an eerily objective psychological edge. Susan Rothenberg received a fellowship from the National Endowment for the Arts and the Skowhegan Medal for Painting. She has had one-person exhibitions at Museum of Fine Arts, Boston; Dallas Museum of Art; Hirshhorn Museum and Sculpture Garden, Washington, DC; Los Angeles County Museum of Art; Museum of Contemporary Art, Chicago; Walker Art Center, Minneapolis; and Tate Gallery, London, among very many others.

Or as the article on her in the online Grove Dictionary of Art put it, "Susan Rothenberg is a painter, printmaker and draughtswoman. From an early age she was encouraged by family, teachers and friends to pursue her interests in art. When still at school she took art classes at her local museum (the Albright-Knox Art Gallery in Buffalo N.Y.), which she frequently visited from the early 1950s to the late 1960s. She then studied at the Fine Arts School, Cornell University, Ithaca, NY (1962–5); she also studied sculpture at the State University of New York, Buffalo (summer 1964). In the mid-1960s influences upon her included Lucas Samaras, Larry Poons, Jasper Johns and Robert Morris. Rothenberg moved to New York in 1969 and lived among a dedicated community of both young and established artists. She briefly assisted Nancy Graves and appeared in several performances by Joan Jonas (b 1936). After an important period of experimentation with process art from 1969 to 1972 she painted her first early mature works depicting horses, for which she became renowned. The painting Axes (1976; New York, MOMA) and other images that include isolated body fragments, dancers, spinners and other figures are autobiographical in origin; in them she explored and articulated an interest in the unconscious process. Examples of Rothenberg's work are in MOMA, New York, the Walker Art Center, Minneapolis, and the Hirshhorn Museum and Sculpture Garden, Smithsonian Institution, Washington, D.C. (Source: Grove Art Online © 2009 Oxford University Press)

Bibliography: Michael Auping, Susan Rothenberg: Paintings and Drawings (NY: Rizzoli, 1992); Michael Auping & Barbara Buhler Lyons, Susan Rothenberg: Moving in Place (Fort Worth: Prestel / Modern Art Museum of Fort Worth, 2009); Cheryl A. Brutvan & Robert Creeley, Susan Rothenberg: Paintings from the Nineties (Boston: Museum of Fine Arts, 1999-2000); Nancy E. Green, Susan Rothenberg: Drawings and Prints (Ithaca: Herbert F. Johnson Museum of Art, Cornell University, 1998); Rachel Robertson Maxwell, Susan Rothenberg: The Prints. A Catalogue Raisonné (Philadelphia: Peter Maxwell, 1987); Eliza Rathbone, Susan Rothenberg (Washington D.C.: The Philips Collection, 1985); Joan Simon, Susan Rothenberg (New York: Abrams, 1991); Sperone Westwater, Susan Rothenberg (NY: Sperone Westwater, 2009).

Through the eend of August, three Rothenbergs will be sharing a wall with three Nevelsons and two Motherwells. It is an interesting wall! For details on the three Rothenbergs, please see below.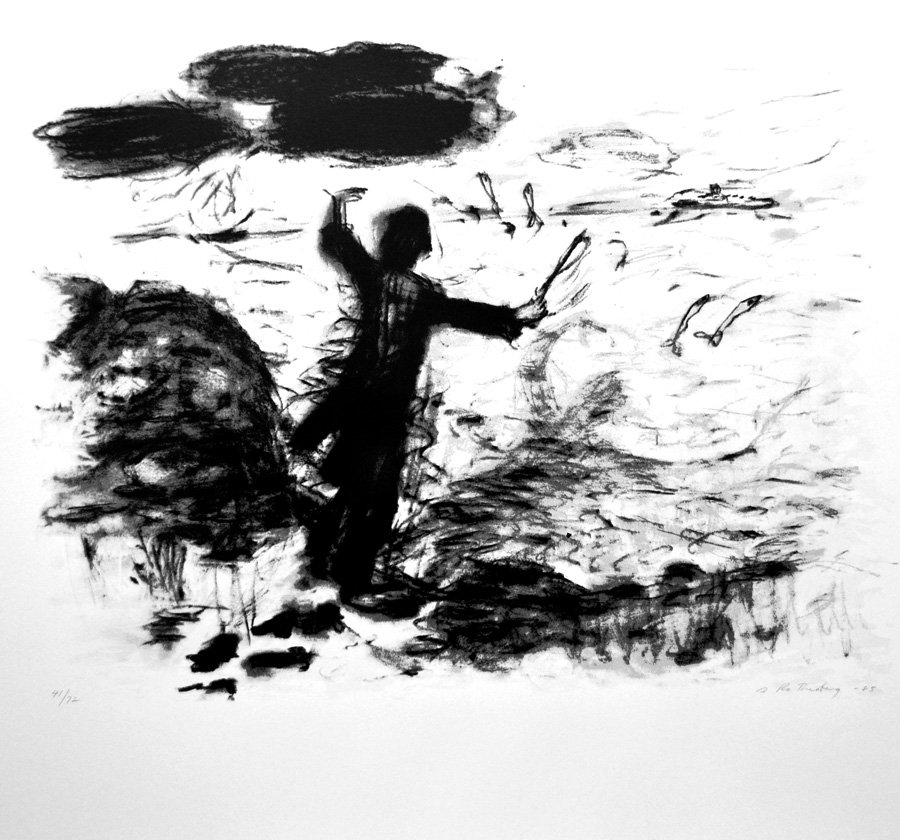 Untitled ((Maxwell, p.98, Charles A. RIley II, Art at Lincoln Center [NY: Lincoln Center, 2009], p. 161). Original screen print for Lincoln Center, 1985. 72 signed and numbered impressions plus 9 artist's proofs, of which ours is n. 41/72. There was also an unsigned poster edition of about 500 that was neither signed nor numbered and had a printed text. The image shows us an orchestra conductor, dressed formally in black tuxedo with tails, holding his baton, standing on the shore and conducting a symphony of the wind, the waves, the clouds, and the seagulls. Is this a sign of madness or a reminder that all people should try to put themselves in harmony with nature. Image size: 985x940mm. Frame size: 35-1/2x37-1.2 inches. Price: $4250.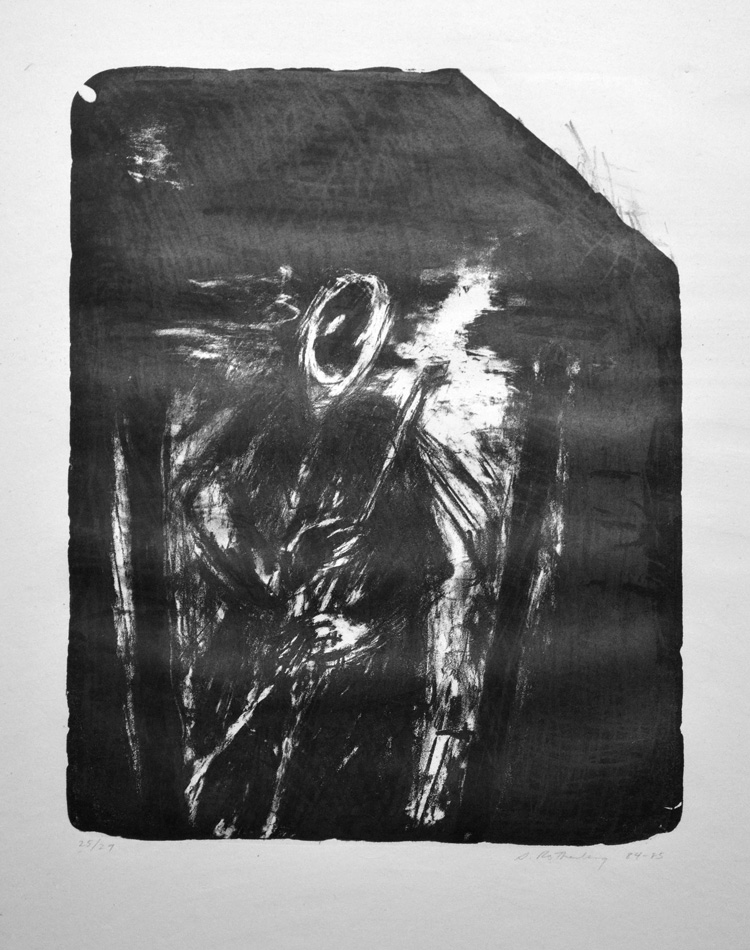 Otis (Maxwell 24). Original lithograph, 1984-85. Edition: 29 signed & numbered impressions (of which ours is 25/29) plus 6 artist's proofs and 1 printer's proof printed printed on handmade Kochi paper by Keith Brintzenhofe at ULAE. Signed and dated in ink lower right corner of the image; the publisher's chop has been embossed in the lower left corner of the paper. The subject is the soul singer Otis Redding, whose plane crashed into Lake Monona in Madison WI shortly before we moved to Madison. Slight rippling on the paper. Image size: 453x358mm. Mat size: 32x24 inches. Price: $3750.
Dead Rooster #4. Original woodcut on , 1993. Edition: 100 signed & numbered impressions on tan handmade Korean Kozo paper (of which ours is n. 82/100) to benefit the Museum of Modern Art. The work was seen through the press by Brooke Alexander. Rothenberg is recognized as one of the most important American artists working today. Her works have been featured at many museums in the U.S. and Europe; her paintings, drawings, and prints have been featured in many one-person shows in galleries and museums. Image size: 580x740mm. Mat size: 32x40 inches. Price: $3250.
Spaightwood Galleries, Inc.
To purchase, call us at 1-800-809-3343 (1-508-529-2511 in Upton MA & vicinity) or send an email to spaightwood@gmail.com.
We accept AmericanExpress, DiscoverCard, MasterCard, and Visa.
We also accept wire transfers and paypal.

For directions and visiting information, please call. We are, of course, always available over the web and by telephone (see above for contact information). Click the following for links to past shows and artists. For a visual tour of the gallery, please click here. For information about Andy Weiner and Sonja Hansard-Weiner, please click here. For a list of special offers currently available, see Specials.

Visiting hours: Saturday 10:00 am to 5:00 pm and Sunday noon to 6:00 pm and other times by arrangement.
Please call to confirm your visit. Browsers and guests are welcome.