Click image for BBB rating
See our Privacy Policy
cool="cool" width="785" height="5371" border="0" cellpadding="0" cellspacing="0" gridx="16" showgridx="showgridx" usegridx="usegridx" gridy="16" showgridy="showgridy" usegridy="usegridy" bgcolor="#99ccff">

Welcome to Spaightwood Galleries, Inc.
120 Main Street, Upton MA 01568-6193; 800-809-3343; email: spaightwood@gmail.com

You can follow us on Facebook at http://www.facebook.com/andrew.weiner.16
and http://www.facebook.com/pages/Spaightwood-Galleries-Inc/122951564441757
Willem de Kooning (Netherlands 1904-1997 America): Lithographs for Frank O'Hara
One of the most important figures in the American Abstract Expressionist movement, Willem de Kooning has been hailed as "the supremely painterly painter of the second half of the twentieth century and the greatest painter of the human figure since Picasso" (David Sylvester). In his 1970 study, Abstract Expressionism, Irving Sandler wrote that his "works of the late 1940s and 1950s gave rise to hundreds of imitations. Indeed, of the older Abstract Expressionists, he was the most influential on the generation that matured in the 1950s. Accountable for his leading role was the freshness of his paintings and their masterliness, his availability to younger artists, his charismatic personality, and his verbal brilliance." Shortly before his death, a large retrospective was shown in Washington DC at the National Gallery of Art, in New York at the Metropolitan Museum of Art, and in London at the Tate Gallery. De Kooning did very few prints in his lifetime, mostly to accompany or to celebrate his friends like poet/curator Frank O'Hara and poet/critic John Ashbery.

De Kooning was born in Rotterdam in the Netherlands and attended the Academie van Beeldende Kunsten in Rotterdam while supporting himself by working at a commercial art and decorating firm. In 1926 he emigrated to the US and continued to support himself as a commercial artist. He soon became a part of the New York avant-garde and became friends with John Graham, Arshile Gorky, and Stuart Davis. As Christoph Grunenberg suggests in his essay on De Kooning in the Grove Dictionary of Art (vol. 8, 633-636), their influence, along with that of Miró, Arp, Picasso, and Mondrian, "is apparent in de Kooning's abstract still-lifes of the 1930s and early 1940s, compositions of biomorphic and geometric shapes and lines in high-key colors, integrated into an architectonic structure" (8: 633-34). During 1935-36, he employed similar techniques in studies for works, none of which was ever completed, for the Federal Art Project of the Works Progress Administration. His studies of women, which defined most of his later work, began after he began his relationship with Elaine Fried, who became his wife in 1939. Grunenberg characterizes his works in this series as attempts to "overcome the restrictions of rational control, inspired by Surrealist automatism" (8: 634).

In the works below, we can see additional studies of the fragility of reason. His untitled 1967 lithograph (V&A, pp. 318-319) accompanied a poem by Frank O'Hara in In Memory of My Feelings, a collection of poems published by the Museum of Modern Art after his unexpected death in 1966 that was illustrated by original compositions by many of the artists who were friends of O'Hara's. The de Kooning works accompanied "Ode to Willem de Kooning," a three-part poem whose third part reaches back through history to touch upon our need for new dawns after the nightmares of the darkness have passed:

"Dawn must always recur
to blot out stars and terrible systems
of belief
Dawn,
erasing blindness from an eye inflamed
reaching for its
morning cigarette in Promethean inflection
after the blames
and desperate conclusions of the dark"

and concludes:

"for democracy is joined
with stunning collapsible savages, all natural and relaxed and free
as the day zooms into space and only darkness lights our lives,
with few flags flaming, imperishable courage and the gentle will
which is the individual dawn of genius rising from its bed
'maybe they're wounds, but maybe they are rubies'
each painful as a sun"
The central motif of the second lithograph below, the crowd of fedoras, may come from a 1926 lithograph by Kathe Kollwitz (click here), Der Agitationsredner / The Agitator (Kl. 224), a powerful and painful study of the politics of the 1920s showing a speaker with a face like death, ranting to a crowd seen from the back as hats sitting on top of unseen heads and bodies, a powerful metaphor for the substitution of fashion for reason.

Selected Bibliography: Paul Cummings et al, Willem de Kooning: Drawings, Paintings, Sculpture (NY: W.W. Norton 1983); Willem De Kooning with Cornelia H. Butler, et al Willem de Kooning: Tracking the Figure (Los Angeles: Los Angeles Museum of Contemporary Arts, 2002); Gary Garrels & Robert Storr, Willem de Kooning: The Late Paintings, the 1980s (San Francisco: San Francisco Museum of Modern Art, 1995); Thomas B. Hess, Willem de Kooning (NY: Museum of Modern Art, 1968); Marla Prather, David Sylvester & Richard Schiff, Willem de Kooning Paintings (Washington, DC: National Gallery of Art / Yale University Press, 1994); Harold Rosenberg, Willem De Kooning (NY: Harry N. Abrams, 1974); Diane Waldman, Willem de Kooning in East Hampton (NY: Solomon R. Guggenheim Museum, 1978); Judith Zilczer et al, Willem de Kooning from the Hirshhorn Museum Collection (NY: Rizzoli, 1993).
Self-Portrait in a Convex Mirror. Original lithograph, 1984. 175 signed & numbered impressions of which twenty five were reserved for contributors (including Richard Avedon, Jim Dine, Elaine de Kooning, Jane Freilicher, Alex Katz, R. B. Kitaj, and Larry Rivers) to a deluxe edition of John Ashbery's Self-Portrait in a Convex Mirror. Image size: 387mm diameter. Price: SOLD.
Untitled I (V&A, pp. 318-319) . Original lithograph, 1967. 2500 impressions for a memorial tribute to the poet and art critic, Frank O'Hara. Illustrated in Carol Hogben & Rowan Watson, eds., From Manet to Hockney: Modern Artists' Illustrated Books (London: Victoria and Albert Museum, 1985), p. 319. Image size: 303x227mm. Price: $1500.
Untitled III (V&A, pp. 318-319) . Original lithograph, 1967. 2500 impressions for a memorial tribute to the poet and art critic, Frank O'Hara. Image size: 303x227mm. Price: $1500.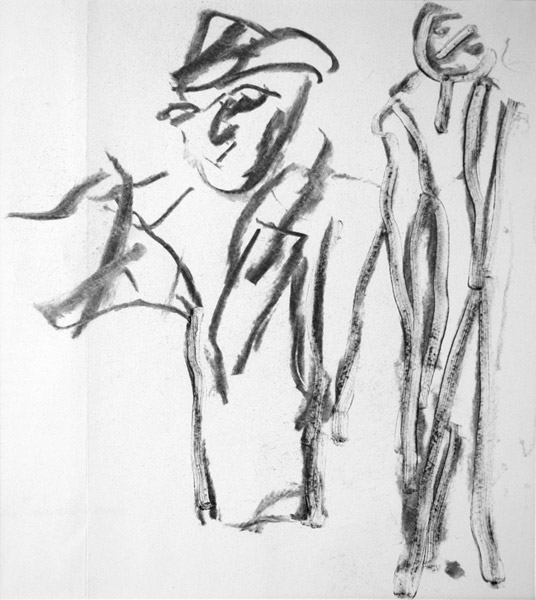 Untitled II (V&A, pp. 318-319) . Original lithograph, 1967. 2500 impressions for a memorial tribute to the poet and art critic, Frank O'Hara. Fold visible at left where the image extended onto an adjoining text page. Image size: 303x265mm. Price: $1250.
When Frank O'Hara, a curator at MoMA, an important modernist poet, and a friend to many of the artists whose works were being shone at MoMA, unexpectedly died, MoMA invited a number of O'Hara's artist friends to contribute works for a memorial volume published by MoMA. The work consisted on unbound sheets alternating poems by O'Hara with works by the various artists who contributed to the vooume (see list of artists below) presented under a cover into which they were loosely inserted and from which they could be easily detached. The size of tjhe pages wass 12x9 inches (305x228mm).
In 1985, the Victoria and Albert Museum in London published a catalogue illustrating their selection of the most important artists' books of the modern period under the title, From Manet to Hockney: Modern Artists' Illustrated Books. Item number 138 in the volume was In Memeory of My Feelings, and three works from the books were illustratged in the entry: a Roy Lichtenstein, a Philip Guston, and, in a full-page reproduction, De Kooning's Untitled I above.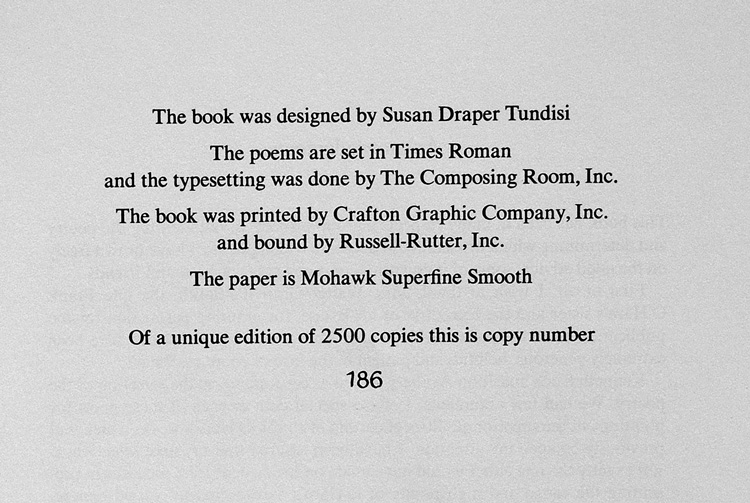 2500 books were produced, each one hand numbered, giving details about the book's designer, the paper, the fonts used for the poems, and the number printed.
Spaightwood Galleries, Inc.
To purchase, call us at 1-800-809-3343 (1-508-529-2511 in Upton MA & vicinity) or send an email to spaightwood@gmail.com.
We accept AmericanExpress, DiscoverCard, MasterCard, and Visa.
We also accept wire transfers and paypal.

For directions and visiting information, please call. We are, of course, always available over the web and by telephone (see above for contact information). Click the following for links to past shows and artists. For a visual tour of the gallery, please click here. For information about Andy Weiner and Sonja Hansard-Weiner, please click here. For a list of special offers currently available, see Specials.

All works are sold with an unconditional guarantee of authenticity (as described in our website listing).

Go back to the top of this page.

Visiting hours: Saturday 10:00 am to 5:00 pm and Sunday noon to 6:00 pm and other times by arrangement.
Please call to confirm your visit. Browsers and guests are welcome.