Click image for BBB rating
See our Privacy Policy
Welcome to Spaightwood Galleries, Inc.
120 Main Street, Upton MA 01568-6193

You can follow us on Facebook at http://www.facebook.com/pages/Spaightwood-Galleries-Inc/122951564441757
I blog there regularly and announce special events and special sales.
Featuring original prints and drawings by
Eva Gonzales, Berthe Morisot, Mary Cassatt, Suzanne Valadon, Nataliya Goncharova, Marie Laurencin, Kathe Kollwitz, Gabriele Munter, Hannah Hoch, Sonia Delaunay, Hilla Rebay, Maria Helena Vieira da Silva, Leonor Fini, Frida Kahlo, Dorothea Tanning, Toyen, and Louise Bourgeois

Of the artists listed above, we have more than 10 works each for Mary Cassatt, Sonia Delaunay, Leonor Fini, and Kathe Kollwitz. Our plan is to show at least 44 works by Kollwitz, 24 by Fini (including one watercolor and several hand-colored prints), 18 by Sonia Delaunay, and 10 by Cassatt. We have single pieces by Gonzales (ink and gouache), Morisot, Susanne Duchamp, Munter, and Kahlo (drawing); we have two pieces by Valadon, Laurencin (including one drawing), Rebay (including one drawing), Vieira da Silva, and Bourgeois; we have several pieces by Goncharova (including one watercolor).

This omnibus show presents some of our personal favorites from our gathering of the works that 40 years ago would not have been found in a standard work like Janson's History of Art but which are now recognized as powerful and, in many cases, classic works. What follows is simly a sampling of some of the works that appeared in this show.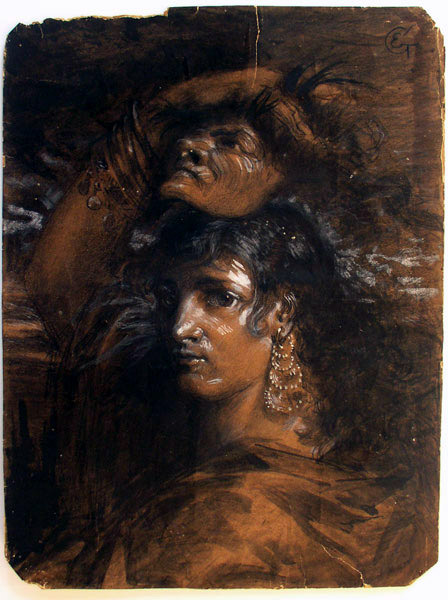 Eva Gonzales (French, 1849-1883), An actress with a mask. Brush and black ink and wash with white gouache heightening and black chalk on tan wove paper. Initialed in pencil upper right recto with a small "E" within a large "G"; signed or inscribed "Eva Gonzales" verso in pen. Vertical tear top center; diagonal tear bottom right. Paper losses at top left and corners. After lessons with Charles Chaplin, a society portraitist who ran a studio for women and also taught Mary Cassatt, she became Manet's only formal pupil in 1869, receiving advice and instruction from him. She also modelled for him, and his Portrait of Eva Gonzalès, shown at the Salon in 1870 and presently in the National Gallery in London, presents her in front of an easel, working on a painting. Rejecting invitations to show with the Impressionists, she preferred instead to show at the Salons, exhibiting there in 1870 and 1879, where many critics preferred her more genteel pieces, but her work was also defended by many more "realist" critics (i.e., those supportive of the Impressionists) including Zacharie Astruc (the subject of an etched portrait by Whistler), Philippe Burty, and Emile Zola. Her work is very hard to find. When one of her watercolors, a portrait of her sister, "La femme en rose, Jeanne Gonzales (1879)" (463x385 mm or 18-3/8x15-1/2 inches), came up for auction recently, it sold at Christie's Paris on 22 March 2007 for $585,000 (the presale estimate was (EUR 100,000-150,000 or about $140,000-$210,000). It was signed only with an estate stamp (Cachet Studio Haut Gauche). Image size: 296x220mm (11-3/4x8-3/4 inches). Price: $275,000.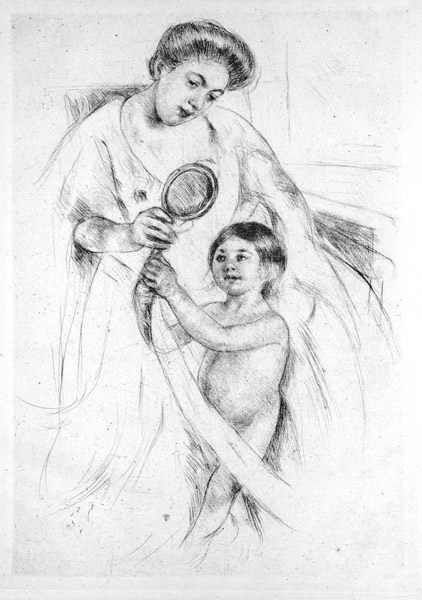 Mary Cassatt (American, 1844-1926), Looking into the hand-mirror III (B. 202+). Original drypoint, c. 1905. Only known state. Included in the Smithsonian Touring Exhibition and its catalogue, Mary Cassatt: Graphic Art. A very good impression of a somewhat rare piece, listed by Breeskin as "newly discovered." Image size: 208x147mm. Price: $6950.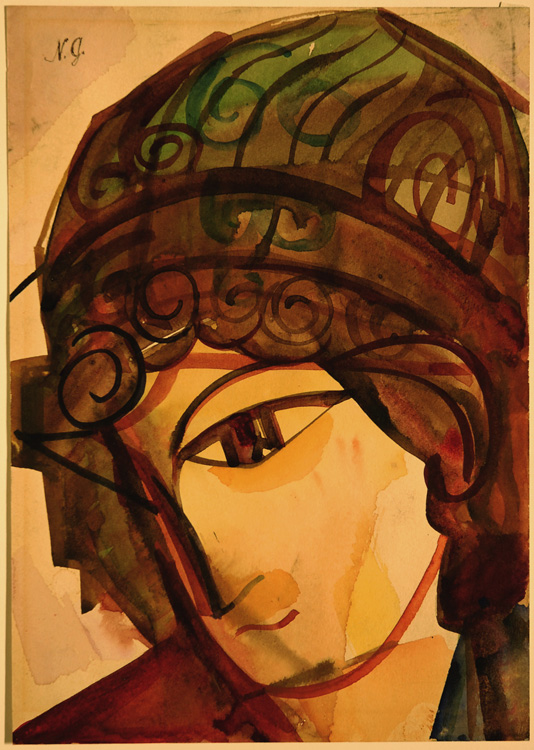 Nataliya Goncharova (Russian, 1881-1962), Classical-Cubist Head. Original watercolor, c. 1913-1916. Initialed upper left within the image with the brush; initialed verso in pencil. Colors fresh and rich. In this watercolor, Goncharova allows us the choice of seeing the head as a fairly traditional 3/4 view or as a modernist work that offers multiple possible ways of seeing the head including overlapping views composed both of shadows and of colored washes. In the past 2 years, prices for Goncharova's works have risen substantially. Over 9 of her paintings have sold for over one million doallars since June 2007, reaching $9, 645, 160 at Christie's London 6/24/08 and $8, 647, 480 at Christie's London on 6/18/07. Prices of her drawings are strong as well, with a high of $162,221 at Bonham's London on 5/31/07. Our watercolor is a superb work by this very important artist showing her exploration of Parisian modernism. Image size: 270x190mm. Price: $50,000.
Sonia Delaunay (Russia, 1885-France, 1979), Composition 19. Original color pochoir, c. 1930. Published in Compositions, Couleurs, Idées (Editions d'Art Charles Moreau, Paris, 1930). I have not been able to find any information about the size of the edition, but I would guess that it was fairly small. Image size: 232x178mm. Price: $750.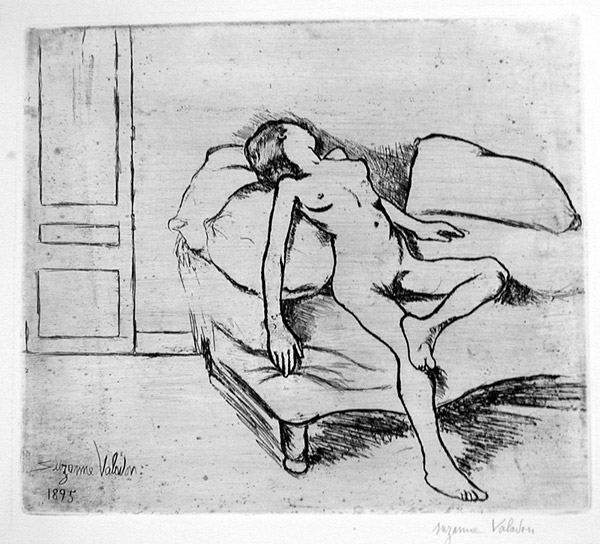 Suzanne Valadon (1865-1938), Louise nue sur la Canape / Louise nude on the sofa (Petrides 4). Original soft-ground etching on Rives with large margins., 1895. Signed and dated in the plate and pencil signed lower right. A very good clean impression with a small stain at the bottom margin, far from the images. Image size: 250x285mm. Price: $3500.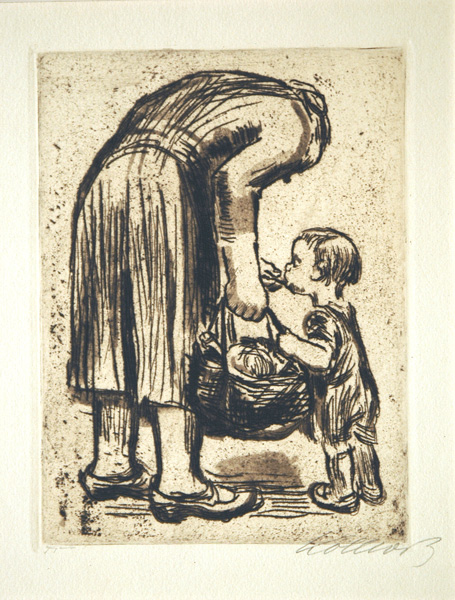 Stehende mutter, ihr büblein fütternd / Standing mother feeding her little boy (Kl. 247iv/v, Knesebeck 242 IIIa/IVb). Original etching, 1928. Our impression (which matches Klipstein's illustration of his state iv) is crisp and sharp and seems to be a signed proof before the edition for the "Verein für Originalradierung" [Association for Original Etching] as annual premium, 1928. Von Knesebeck describes that state as printed in brown, on pinkish or graybrown copperplate paper, without the signature of the printer Felsing and signed "Käthe Kollwitz" in lower right. Our impression is signed "Kollwitz" lower right, printed on yellowish-cream paper, without the von der Beck drystamp and clearly earlier than the von der Beck editions, where the aquatint is mostly gone. In 1933, Käthe Kollwitz (Das Neue Kollwitz-Werk, Dresden, 1933, nr. 9) titled this work "Eine Mutter füttert ihr Kind" [A Mother feeds her Child] and stated that it resulted from an "impression on the street." This late image shows a mother pausing on her way home from shopping to feed her hungry child. One of Kollwitz' most domestic images. Image size: 205x151mm. Price: $9500.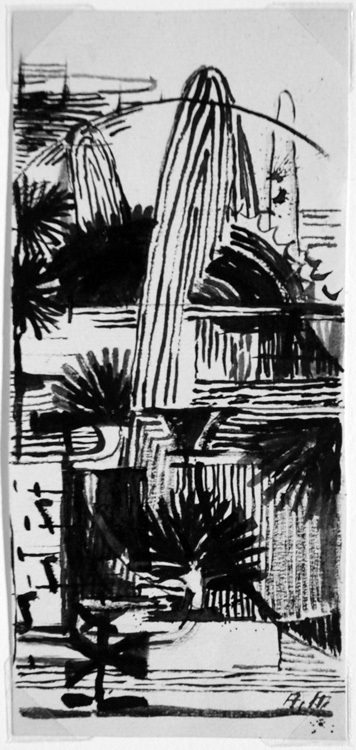 Hannah Höch (German, 1889-1978), Landschaftskomposition / Composition for a landscape. Original ink drawing, c. 1930. Signed in ink lower right "H.H." Höoch participated in the DADA movement from 1917 to 1921. She was also a member of the Novembergruppe. She was friendly with Arp, Van Doesburg, Moholy-Nagy, and Schwitters. She was also a pioneer in the construction of photo-collages. Image size: 145x66mm. Price: $4250.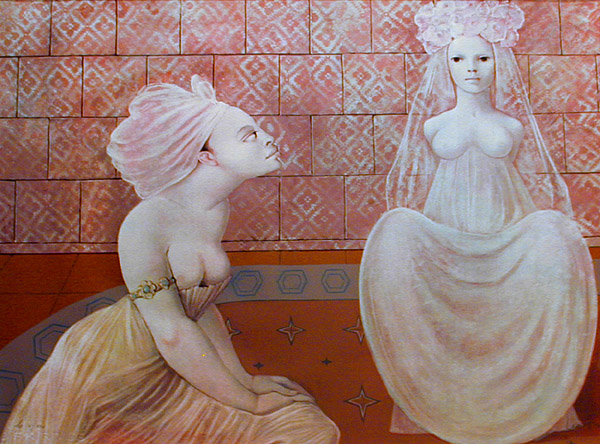 La Prison de Zigrifine. Original color silkscreen, c. 1976. For the series of Sultanes et Magiciennes des Milles et Une Nuits / Sultans and magicians from the 1001 Nights. 275 signed and numbered impressions of Rives with the embossed cat published by Editions Galerie Carpentier, Paris. Ours is an impression annotated HC v/xxv. Image size: 538x725mm. Price: $1750.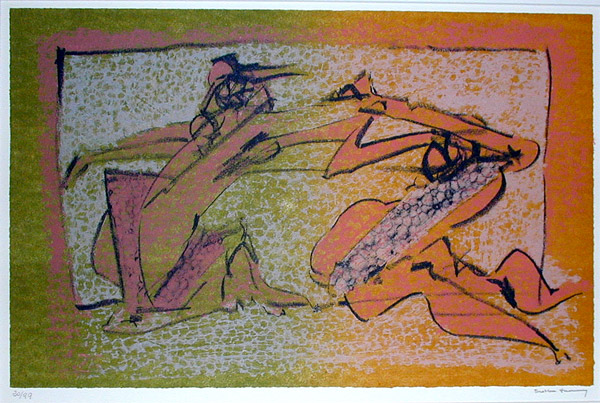 Dorothea Tanning (American, b. 1910), Les demeures d'Hypnos (T. 322). Original color lithograph, 1976. 99 signed and numbered impressions. Image size: 250x390mm. Price: $2500.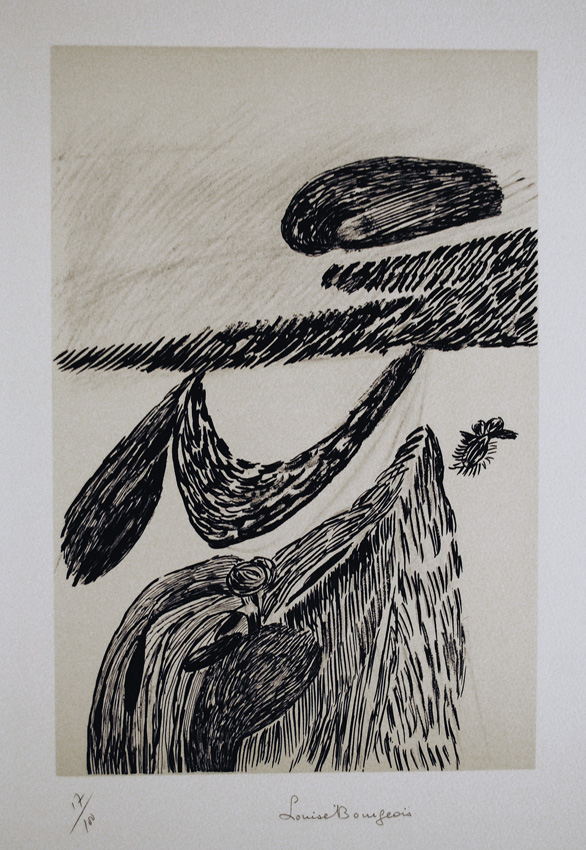 Louise Bourgeois (American, b. 1911), Inner Life (MoMA 78). Original 2-color photolithograph, 1985. 100 signed and numbered impressions. Based on one of the artist's favorite drawings, which she decided to turn into a lithograph on the occasion of a retrospective of her early sculptures and drawings. After photographically transferring the image to a stone, a second color was then printed on top for the signed and numbered edition. An unsigned edition without the second color also exists. A porfolio of Bourgeios' early lithographs just sold at auction for a price that averaged over $10,000 per piece. Image size: 314x210mm. Price: $6500.

An impression signed in the sstone without the beige overlay is available for $650.
Spaightwood Galleries, Inc.
To purchase, call us at 1-800-809-3343 (1-508-529-2511 in Upton MA & vicinity) or send an email to spaightwood@gmail.com
We accept AmericanExpress, DiscoverCard, MasterCard, and Visa.
We also accept wire transfers and paypal.

For directions and visiting information, please call. We are, of course, always available over the web and by telephone (see above for contact information). Click the following for links to past shows and artists. For a visual tour of the gallery, please click here. For information about Andy Weiner and Sonja Hansard-Weiner, please click here. For a list of special offers currently available, see Specials.

All works are sold with an unconditional guarantee of authenticity (as described in our website listing).

Go back to the top of this page.

Visiting hours: Saturday 10:00 am to 5:00 pm and Sunday noon to 6:00 pm and other times by arrangement.
Please call to confirm your visit. Browsers and guests are welcome.