Click image for BBB rating
See our Privacy Policy
cool="cool" width="784" height="4404" border="0" cellpadding="0" cellspacing="0" gridx="16" showgridx="showgridx" usegridx="usegridx" gridy="16" showgridy="showgridy" usegridy="usegridy" bgcolor="#99ccff">

Spaightwood Galleries
120 Main Street, Upton MA 01568-6193; 800-809-3343
Nineteenth-Century Drawings: Portraits
Our selections by artists working in the 19th century includes the ever-popular Anonymous, hard at work in a number of different genres and with results varying from work to work. Some are no more than a travel record, others quick sketches from life, others still, ways of thinking about possible ways to lay out a composition, yet others finished works of art serving not only as a model for another work but as independent, polished pieces capable of standing on their own (see particularly the portrait of a young woman below. Some of these artists are anonymous because they never had any desire to be thought of as artists; others because they feared that the little they knew about how to draw could serve to help them remember something they wanted to remember but feared that publicly releasing them might bring them unflattering public attention. Others are by professional artists, sometimes continuing a long-time family trade, sometimes immensely successful, sometimes barely known, whose drawings were meant to serve as a resource to them and to their assistants. In some cases. the works are signed—possibly for presentation; in other cases the style presents a signature almost as reliable as the thing itself. We have identified works by Hans (Johann) Beckmann, Theophile Chauvel, Heloise Suzanne Colin, Felix O. C. Darley, the Count D'Orsay, E. F. Gehme, Emil Kinkelin, Johann Mader, Mauer, Lothar Meggendorfer, Adrian Ludwig Richter, Marianne von Rohden, Otto Greiner, and Adalbert Wolfe.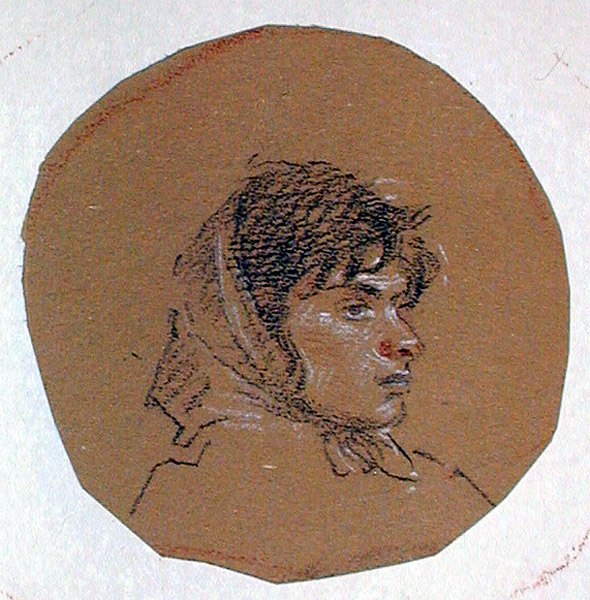 Anonymous (English, 19th c.), Head of a young woman. Pencil heightened by white and red chalk on wove paper. The work was given as a Christmas present by John Daly, who may of may not have drawn it. It has clearly been cut from a larger piece. Image size: 56x56mm. Price: $350.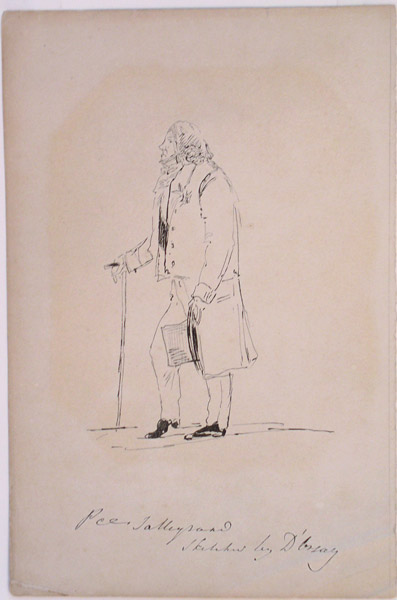 Alfred Guillaume Gabriel, Count d'Orsay (French, 1801-1852), Portrait of Talleyrand. Ink on wove paper. Inscribed in ink at bottom of sheet: "Talleyrand sketched by D'Orsay." The Count d'Orsay was the son of an army officer and was himself an army officer. He showed his paintings at the Royal Academy from 1843-1848. In 1852, the Emperor Louis-Napolean named him Director of Fine Arts for France. His portrait of Wellington hangs in the National Portrait Gallery in London. His watercolor of Lord Byron is in the Victoria and Albert Museum. His bust of Lamartine can be seen at Versaille and an equestrian sculpture of Napoleon at the Ajaccio City Hopsital. He also painted other leading French and British political and military figures. Talleyrand was one of Napolean's leading ministers and held high office in various French governments until his death. He has been called "the most illustrious diplomat France has ever known. This man, who never stopped fomenting hate and controversies, spent his life loving France and defending it with all his might in themost troubled period of its history. A European before his time, wishing to develop trade, peace and education, Charles-Maurice de Talleyrand-Périgord, who cherished the mores of the old regime, was in fact a modern man always turned to the future. That is the least of his contradictions." Image size: 105x79mm. Price: SOLD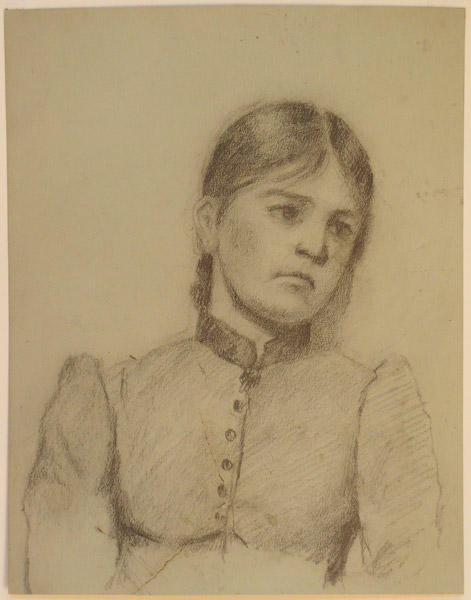 Jean-François Millet (French, 1814-1875), attributed. Catherine Lemaire as a Young woman. Pencil on bluish green tinted paper. Long repaired tear snaking its way up from the lower left to the left shoulder. This work is strongly reminiscent of Millet's portrait of his wife in 1848-49 in the Museum of Fine Arts, Boston. The subject here is several years younger and is seen before she began giving birth to Millet's children. After looking at photographs of several thousand 19th-century drawings, this one struck us as one of the most tender, wistful, and lovely drawings of its kind that we have ever seen. Image size: 261x203mm. Price: SOLD
Otto Greiner (German, 1869-1916), Nude studies. Watercolor and wash on wove paper, sigmed and dated 1896. Greiner studied in Munich, where he trained in lithography and etching. He went to Rome, where he became interested in the work of Max Klinger, also one of Kathe Kollwitz' inspirations. Later he turned to painting on canvas and to pastels. He was awarded an "honorable mention" at the Universal Exposition of 1900. 75 of his drawings have sold at auction since 1987; a sanguine self-portrait reached a high of $34,000 at Sotheby's Munich in 1996. There is a study of his drawings in the Meister der Zeichnung (Masters of Drawings Series), by Hans W. Singer, Zeichnungen von Otto Greiner (Leipzig: Baumgärtner's Buchhandlung, 1912). A drawing very similar to ours, signed by Greiner and also dated "Sept 1896"is in the Kupferstich Kabinet in Dresden. See also Julius Vogel, Otto Greiner (Leipzig: Seemann, 1903). Image size: 446x305mm. Price: SOLD.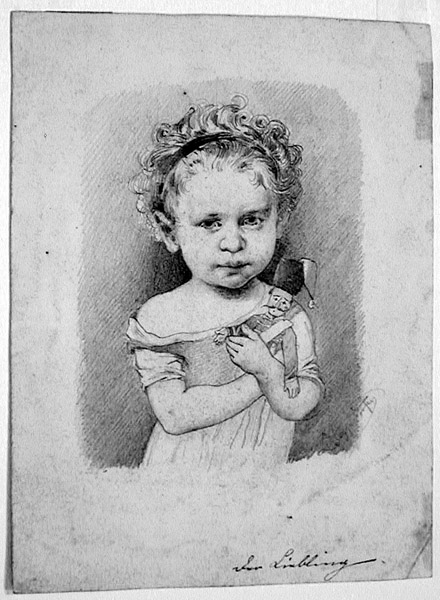 Lothar Meggendorfer (German, 1847-1925), Small child with toy soldier. Pencil on wove paper, last third of the 19th c. Meggandorfer studied with Strähuber, Anschütz, and W. van Dietz. In 1886 he founded the Meggandorfer Blatter and published his writings and illustrations there. The Munich Municipal Museum has a collection of his drawings. Image size: 120x90mm. Price: SOLD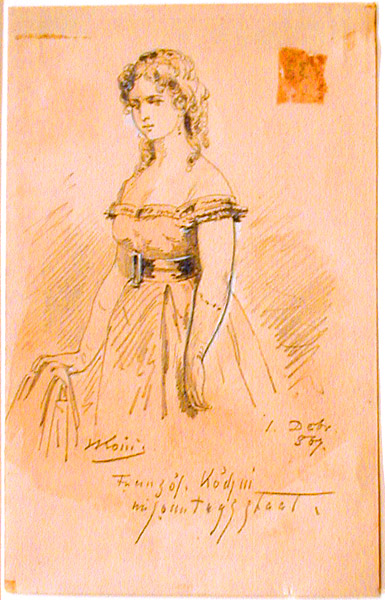 Anonymous (Hungarian? late 19th century), Young woman in dress. Pencil and wash on wove paper, 1887. Dated "1 Debr 87" at right and with text in Hungarian at left and below. Old tape stain on the verso visible top right. Image size: 120x76mm. Price: $350.
Spaightwood Galleries, Inc.
To purchase, call us at 1-800-809-3343 (1-508-529-2511 in Upton MA & vicinity) or send an email to spaightwood@gmail.com. We accept AmericanExpress, DiscoverCard, MasterCard, and Visa.

For directions and visiting information, please call. We are, of course, always available over the web and by telephone (see above for contact information). Click the following for links to past shows and artists. For a visual tour of the gallery, please click here. For information about Andy Weiner and Sonja Hansard-Weiner, please click here. For a list of special offers currently available, see Specials.

Visiting hours: Saturday 10:00 am to 5:00 pm and Sunday noon to 6:00 pm and other times by arrangement. Please call to confirm your visit. Browsers and guests are welcome.