Click image for BBB rating
See our Privacy Policy
cool="cool" width="784" height="2207" border="0" cellpadding="0" cellspacing="0" gridx="16" showgridx="showgridx" usegridx="usegridx" gridy="16" showgridy="showgridy" usegridy="usegridy" bgcolor="#99ccff">

Spaightwood Galleries
120 Main Street, Upton MA 01568-6193; 800-809-3343
Paul Gauguin (French, 1848-1903)
Paul Gauguin was one of the most important Post-Impressionist painters and printmakers, but his impact on later artists includes the mythology that grew up about him: his abandonment of a job as a successful stockbroker, his abandonment of wife and family, and, ultimately "civilization" itself in search of a truth in nature that he found lacking in a civilization that he felt had become diseased. His adoption of a "primitive" lifestyle and his incorporation of motifs from native art into his own paintings and woodcuts served as an inspiration both to the Fauves and the German Expressionists and to artists like Picasso.

Print catalogues: Elizabeth Mongan, Harold Joachim, and Eberhard W. Kornfeld, Paul Gauguin: Catalogue Raisonne of His Prints (Berne: Galerie Kornfeld, 1988); Caroline Boyle-Turner, The Prints of the Pont-Avon School: Gauguin and His Circle in Brittany (NY: Abbeville, 1986) and Caroline Boyle-Turner, Gauguin and the School of Pont-Aven: Prints and Paintings (London: Royal Academy of Arts, 1989).
La femme aux figues (Guerin 88; Mongan, Kornfeld, Joachim 31 III/III). Original etching and lavis on zinc, 1899. First published in the portfolio, Germinal in an edition of 100 impressions in greenish-gray ink. At some point after this edition, the plate was cut down on the right side from 268x444mm to 268x418mm. 10 impressions from this were printed by Madame Delâtre, widow of the printer of the impressions for Germinal, who then cancelled the plate by gouging 2 XX lower right in the cloth next to the figs. In 1966, the plate was purchased and perhaps as many as 1000 impressions were made from it. Our impression is a very good early impression from this edition. In later impressions, much of the background hatching wears away and no longer prints; the central image also deteriorates and the double X is no longer visible. Although Guerin denied that Gauguin executed this work (noting that "Chez Seguin à St. Julien" is etched into the upper left crosshatching), more recent scholars point out that Gauguin was still alive when Germinal was first published and never disclaimed his authorship of the work and that Seguin never claimed it. See, in particular, Caroline Boyle-Turner, The Prints of the Pont-Avon School: Gauguin and His Circle in Brittany (NY: Abbeville, 1986), G. 5b, for her judicious account of the critical debate on this work, which had been considered, according to Print Collector I (1972), 71, "one of the most meaningful engravings in contemporary French art." Seee also the meticulous account in the Gauguin print catalogue raisoné by Mongan et al. In Dec. 2005, another posthumous impression of this etching sold at auction in France for $7321. Image size: 265x418mm. Price: $7000.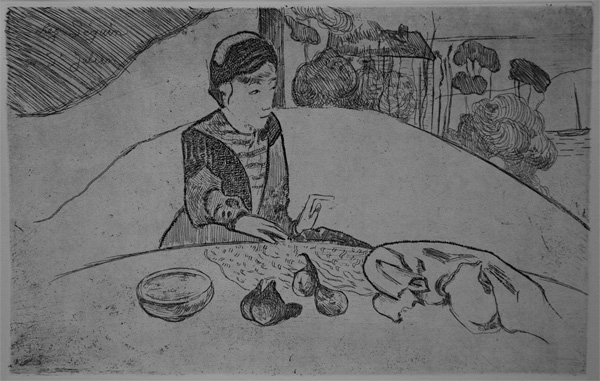 La femme au figues (G. 88). Original etching, 1899. This is a late impression of the same work. The amount of wear to the plate is immediately visible. Gauguin etched the work on a zinc plate which wore very quickly. Image size: 265x414mm. Price: SOLD.
Spaightwood Galleries, Inc.
To purchase, call us at 1-800-809-3343 (1-508-529-2511 in Upton MA & vicinity) or send an email to spaightwood@gmail.com. We accept AmericanExpress, DiscoverCard, MasterCard, and Visa.

Spaightwood Galleries is located at 120 Main St (aka Highway 140) in Upton MA at the corner of Main St and Maple Ave in a rehabilitated Unitarian Church. For directions and visiting information, please call. We are, of course, always available over the web and by telephone (see above for contact information). Click the following for links to past shows and artists. For a visual tour of the gallery, please click here. For information about Andy Weiner and Sonja Hansard-Weiner, please click here. For a list of special offers currently available, see Specials.
Visiting hours: Saturday and Sunday noon to six and other times by arrangement. Please call to confirm your visit. Browsers and guests are welcome.