Click image for BBB rating
See our Privacy Policy
cool="cool" width="786" height="1744" border="0" cellpadding="0" cellspacing="0" gridx="16" showgridx="showgridx" usegridx="usegridx" gridy="16" showgridy="showgridy" usegridy="usegridy" bgcolor="#99ccff">

Welcome to Spaightwood Galleries, Inc.
120 Main Street, Upton MA 01568-6193

You can follow us on Facebook at http://www.facebook.com/pages/Spaightwood-Galleries-Inc/122951564441757
I blog there regularly and announce special events and special sales.
Albert Besnard (French, 1849-1934)
Besnard's father was a pupil of Ingres; his mother was a talented miniaturist. Besnard enrolled at the École des Beaux-Arts where he studied under Jean François Brémond (1807–68) and Alexandre Cabanel. He had his first painting accepted by the Paris Salon when he was only 19. In 1874 he was awarded the Grand Prix de Rome. Upon his return from Italy, he married a sculptor, Charlotte Dubray. Although he received many official honors and was the last important academic painter, he also was attracted to Impressionism. Although trained in the Classical tradition, he began to adopt the Impressionist style about 1883. His Portrait de Mme. Roger Jourdain, which he exhibited at the Paris Salon of 1886, established his reputation. By the time he was 30, he was well into a career that was crowned with many honors. He was named Director of the Villa Medici in Rome in 1914, and the Director of the Ecole Nationale des Beaux-Arts in 1922. He was elected to the Académie des Beaux Arts and to the Académie Française. He was also awarded the Grand Croix de la Légion d'Honneur. His works are found in many museums, including the Louvre (Woman Warming Herself, 1866). He is best known for his many mural decorations in schools and public buildings in Paris.

Selected Bibliography: Louis Godefroy, Albert Besnard. Loys Delteil, Le Peintre-Graveur Illustré, Tome XXX / The graphic works of nineteenth and twentieth century artists: An illustrated catalog, Volume XXX (New York: Collectors Editions Ltd., Da Capo Press, 1969; Achille Segard, Peintres D'Aujourd'hui: Les Décorateurs. 1. Albert Besnard -- Gaston La Touche -- Jules Chéret -- Paul Baudoüin. 2. Henri Martin -- Aman-Jean -- Maurice Denis -- Édouard Vuillard. Deuxième Édition (Paris: Librairie Ollendorf, Société d'Éditions Littéraires et Artistiques, 1914); Hans W. Singer, Zeichnungen von Albert Besnard: Meister der Zeichnung 6 Band (Leipzig: A. Schumann, 1912); Marie Von Vorst, Modern French Masters: Puvis de Chavannes, Jean Charles Cazin, Rondin, Paul Albert Besnard & Steinlen (Brentano's, 1940); Georges Wildenstein, Albert Besnard. La Tour. La Vie et l'oeuvre de l'artiste. Catalogue critique par Georges Wildenstein. L'oeuvre de l'artiste en deux cent soixante-huit héliogravures (Paris: Les Beaux Arts, 1928).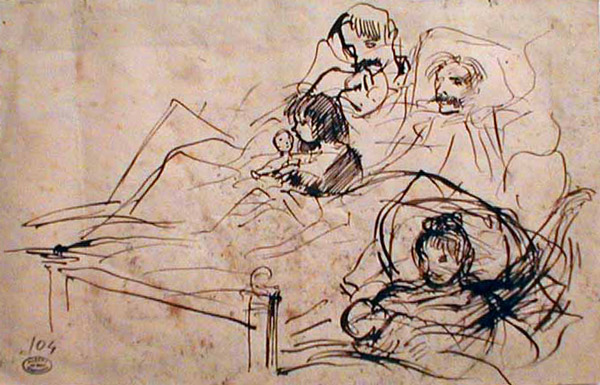 En famille / Family sketches. Pen and black ink on the reverse side of a sheet of paper used as wrapping paper and addressed to Besnard's brother. With the stamp from the atelier sale. Image size: 134x207mm. Price: SOLD.
Spaightwood Galleries, Inc.
To purchase, call us at 1-800-809-3343 (1-508-529-2511 in Upton MA & vicinity) or send an email to spaightwood@gmail.com.
We accept AmericanExpress, DiscoverCard, MasterCard, and Visa.
We also accept wire transfers and paypal.

For directions and visiting information, please call. We are, of course, always available over the web and by telephone (see above for contact information). Click the following for links to past shows and artists. For a visual tour of the gallery, please click here. For information about Andy Weiner and Sonja Hansard-Weiner, please click here. For a list of special offers currently available, see Specials.

All works are sold with an unconditional guarantee of authenticity (as described in our website listing).

Copyright 2004-2017, Spaightwood Galleries, Inc.

Go back to the top of this page.

Visiting hours: Saturday 10:00 am to 5:00 pm and Sunday noon to 6:00 pm and other times by arrangement.
Please call to confirm your visit. Browsers and guests are welcome.