Click image for BBB rating
See our Privacy Policy
cool="cool" width="833" height="6435" border="0" cellpadding="0" cellspacing="0" gridx="16" showgridx="showgridx" usegridx="usegridx" gridy="16" showgridy="showgridy" usegridy="usegridy" bgcolor="#99ccff">

Spaightwood Galleries
120 Main Street, Upton MA 01568-6193; 800-809-3343
A Virtual Tour of Our Opening Show in Upton, April 2005
View from the corner of Maple and Main St (also known as Highway 140).
Entrance, featuring our new front door.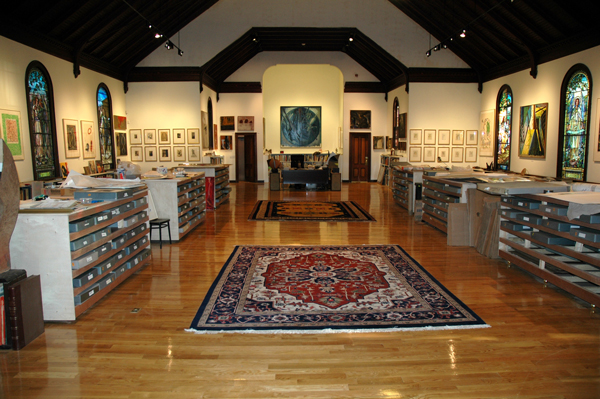 A view from the front of the gallery showing the rear two-thirds of the gallery (missing are the walls underneath the loft, and the entry galleries). One of our newest acquisitions, an 80 x 80 inch Titus-Carmel painting from the Nuits series, Nuit Carrée IV (1987), is visible on the rear wall.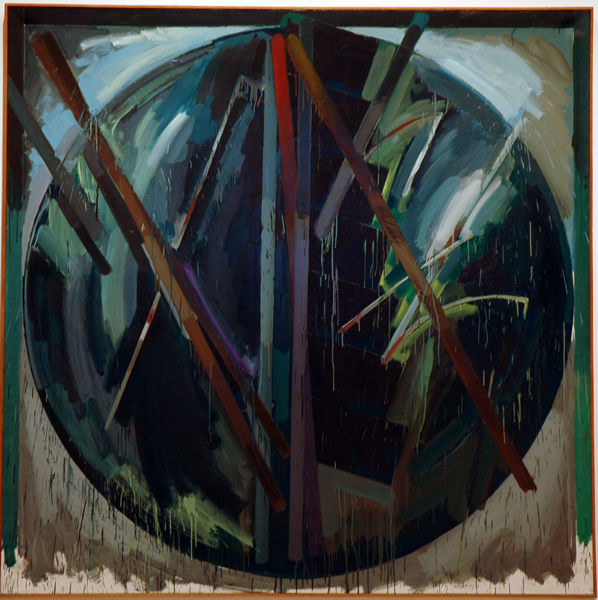 Gérard Titus-Carmel (French, b. 1942), Nuit Carrée IV / Square Night IV. Oil on canvas, 1984. Image size: 2050x2050 mm (80x80 inches). The title plays off the geometrical description with its metaphorical connotation of "Plain, straightforward" and its numerical/moral connotation of "Four-square" to present us with an emotional night or dream state of transformations and shifting versions of imaginative realities that is anything but plain or straightforward. One of Titus-Carmel's masterpieces. Illustrated in Nuits: vingt-quatre peintures réalisées en 1984 published under the direction of the Musées de Nice for an exhibition at the Galerie des Ponchettes (1985); it is also illustrated in a catalogue published for the same exhibition by the Musée d'Art Moderne de Villeneuve d'Ascq. Price: NFS.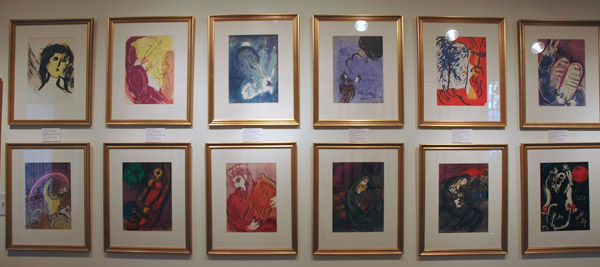 Chagall original color lithographs from the 1956 Verve Bible.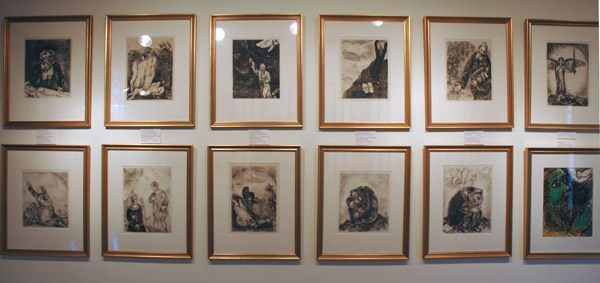 Chagall original etchings (1930-39 and 1952-56) for the Bible published by Teriade (plus Job from the 1960 Verve devoted to Chagall's drawings for the Bible for which Chagall executed 24 original color lithographs, of which thi s is one. For the others, click here.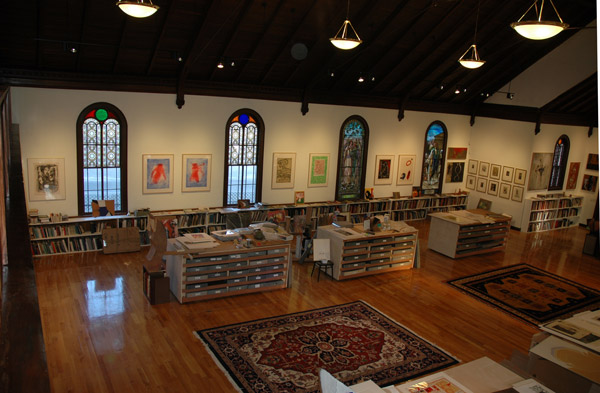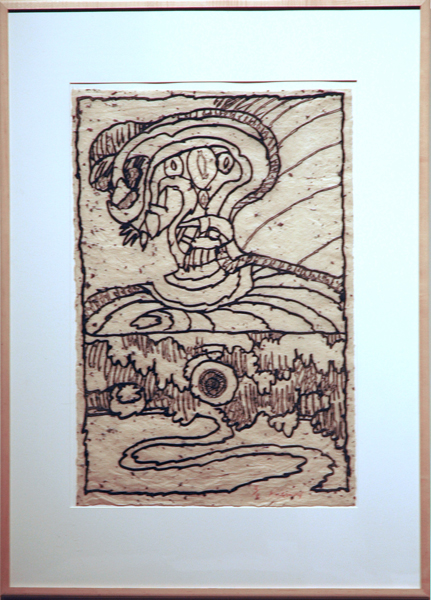 Pierre Alechinsky (Belgian, b. 1927), Frontiére naturelle / Natural border. Original color etching and aquatint on rice paper, 1976. 50 signed & numbered impressions plus 10 artist's proofs (of which ours is n. IV/X), all printed on handmade Taiwan paper. A very rare and beautiful example of Alechinsky's monumental etching work. Image size: 765x515mm. Price: $8500.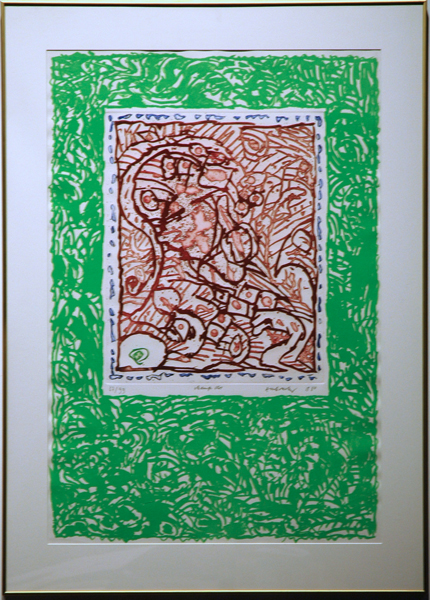 Pierre Alechinsky (Belgian, b. 1927), Champs clos / closed field. Original color etching and lithograph on rice paper, 1980. 99 signed & numbered impressions, of which ours is n. 37/99. One of Alechinsky's frequent themes is the fecundity of nature and its ability to overwhelm human attempts to impose order. Idiomatically, a "champs clos" is a space for knightly jousting and tournaments; Alechinsky's image, however, offers us something more like a maze or a labyrinth (and Alechinsky has created many labyrinths). Image size: 900x630mm. Price: $6500.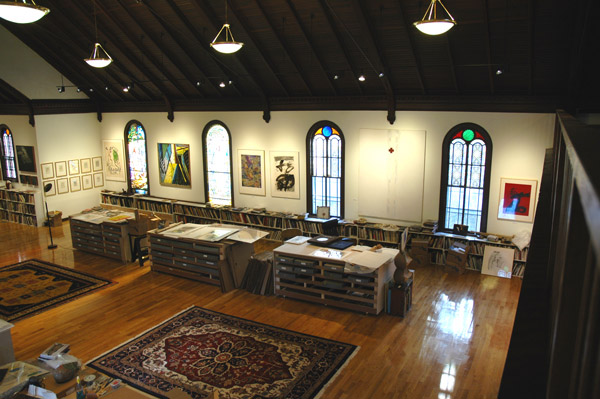 The view from the loft showing the right side of the gallery and works by Chagall, Titus-Carmel, Olitski, Tàpies, Lois Lane, and Tàpies.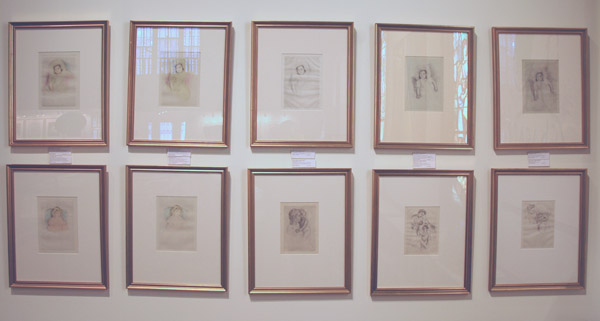 Mary Cassatt, 10 original drypoints. For closer views, click here.
Spaightwood Galleries, Inc.
To purchase, call us at 1-800-809-3343 (1-508-529-2511 in Upton MA & vicinity) or send an email to spaightwood@gmail.com. We accept AmericanExpress, DiscoverCard, MasterCard, and Visa.

For directions and visiting information, please call. We are, of course, always available over the web and by telephone (see above for contact information). Click the following for links to past shows and artists. For a visual tour of the gallery, please click here. For information about Andy Weiner and Sonja Hansard-Weiner, please click here. For a list of special offers currently available, see Specials.

Visiting hours: Saturday 10:00 am to 5:00 pm and Sunday noon to 6:00 pm and other times by arrangement.
Please call to confirm your visit. Browsers and guests are welcome.