Click image for BBB rating
See our Privacy Policy
cool="cool" width="800" height="2549" border="0" cellpadding="0" cellspacing="0" gridx="16" showgridx="showgridx" usegridx="usegridx" gridy="16" showgridy="showgridy" usegridy="usegridy" bgcolor="#99ccff">

Spaightwood Galleries
Pop Art in the U.S. and Europe: Tom Wesselmann (American, 1931-2004)
Tom Wesselmann (American, 1931-2004) was one of the contributors to the three original portfolios that launched the Pop Art Movement and remains one of the vigorous of the group still producing works. His works are in most major American museums, including the Museum of Modern Art and the Whitney Museum in New York, the Hirshhorn Museum in Washington D.C., the Walker ArtCenter and the Minneapolis Institute of Fine Arts in Minneapolis, the Chrysler Museum in Norfolk, the Philadelphia Museum of Art, the Dallas Museum of Fine Arts, the Worcester Art Museum, the Princeton University Art Museum, the Atkins Museum of Fine Arts in Kansas City MO, the Albright-Knox Art Gallery in Buffalo, the Cincinnati Art Museum, and many others. His works can also be seen in important public museums in Germany, France, Denmark, Norway, Israel, Japan, and Korea.

"After studying psychology at the University of Cincinnati, he studied at the Art Academy of Cincinnati, 1955-56, and from 1956 to 1959 studied under Nicolas Marsicano at the Cooper Union School of Art and Architecture, New York. He was painting in the style of Abstract Expressionism, influenced by de Kooning. In 1959 he turned to experimenting with small, abstract collages. In 1960 he changed to painting objects and landscapes. He had his first one-man exhibition at the Tanager Gallery, New York, in 1961. In 1962 he participated in the exhibition The Figure at the Museum of Modern Art, New York. In 1963 he was included in Pop Goes the East at the Contemporary Arts Museum, Houston, and in 1965 in the Young America 1965 exhibition at the Whitney Museum, New York. He was represented at the São Paulo Biennale, 1967, and at the documenta "4" and "6", Kassel, in 1968 and 1977 respectively. His exhibition Early Still-Lifes 1962-1964 began its tour of the USA at Balboa, California, in 1970. In 1974 his exhibition The Early Years: Collages 1959-62 toured the USA. In the same year he was included in the exhibition American Pop Art, Whitney Museum, New York, and in Illusions of Reality at the Art Gallery of New South Wales, Sydney, in 1976. His work started with brash collages, assemblages and environments using commonplace commodity articles and modelled on advertising catalogs—usually combined with the exhibitionistic pose of a female body. In the course of his work on the series Great American Nudes he enlarged the format of his canvasses." (Brief bio taken from WWW.PopArt.)

In an interview with Irving Sandler, Wesselmann discusses the moment of turning away from Abstract Expressionism and the birth of Pop Art: "I didn't want to deal in poetry. I got rid of that after a few months. I began to anyway. I guess it took me a couple of years to get rid of that. In fact, I guess it was a good two years before I began to come around to the idea that was also voiced and reinforcing myself by Alex Katz when I heard him say one time that his paintings looked brand new, like they'd just come out of a box. This was part of the climate at the time. It was all coming together in about 1962, I guess. More and more, I mean, because you had Lichtenstein coming on the scene, and Warhol and Rosenquist. Things were kind of clean and slick. It was just kind of in the air at the time. Quite naturally it affected my show in '61. I had a one-man show at the Tanager in '61. I was still involved with some idea of painterliness. By the time my show opened at the Green Gallery a year later, I'd gotten rid of about seventy-five percent of that, not all of it by any means. I used collage primarily because I was impatient and secondarily because I didn't have any point of view to paint the things myself and I felt very unskilled—I'd never done this before. I'd never painted anything—never painted or anything before. So I was quite content to take other people's work since I didn't care anyway about the subject matter. I approached subject matter as a scoundrel. I had nothing to say about it whatsoever. I only wanted to make these exciting paintings. I was doing these strange little paintings, these collages; I guess I'd done about four, five or six. The first living artist to set eyes on them was Jimmy Dine who came down one day. He said "You may be one of America's great painters." That never occurred to me. It was a very important thing he said to me. It was quite helpful; gave my morale a boost because I wasn't sure" (from the Smithsonian Oral Interviews Archive."

Selected Bibliography: Thomas Buchsteiner & Otto Letze, Tom Wesselmann (Stuttgart: Cantz,1996); California State University, Art Galleries, Tom Wesselmann: The Early Years (Long Beach, CA: California State University, Art Galleries, 1974); Jean-Louis Ferrier, Tom Wesselmann (Paris: Galerie Sonnabend, 1966); Thomas H. Garver, Tom Wesselmann: Early still lifes, 1962-1964 (Kansas City: Nelson Gallery-Atkins Museum, 1971); Sam Hunter, Tom Wesselmann (Barcelona: EdicionesPoligrafa, 1995); Marco Livingstone, Tom Wesselmann: Six Canvases on a Theme (London: Mayor Gallery, 1998); John McEwen, Tom Wesselmann: Paintings, 1962-1986 (London: Mayor Gallery, 1988); Sidney Janis Gallery, Tom Wesselmann: New Work (NY: Sidney Janis Gallery, 1988); Slim Stealingworth, Tom Wesselmann (NY: Abbeville, 1980); Tom Wesselmann, Tom Wesselmann (NY: Sidney Janis, 1972).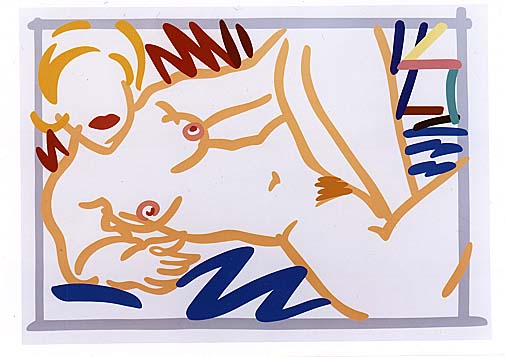 1960–Judy on Blue Blanket. Original 15-color screenprint, 2000. 75 signed and numbered impressions (plus 10 artists proofs). Image size: 762x1015mm (30"x40" inches). Price: $2750. Like Larry Rivers, Wesselmann has been revisiting a number of his earlier compositions and representing them in diffeerent materials. The original version of this composition was a painting of the same title; in this 15-color screenprint, in which all of the screens were prepared by hand under Wesselmann's direction, Wesselmann achieves the clarity of a late de Kooning. Published by Lincoln Center, the work was sold out before the publication date. Spaightwood Galleries was lucky enough to get two impressions before the print sold out. SOLD.

Unlike commercial screenprints, which tend to be based upon photographs, an artist's screenprint (for want of a better term) is not a mass-produced photographic reproduction: each color is hand-printed in a separate press run. The screens can be hand-painted, stenciled on, or an image can be laid on the screen photographically. Once the screens are done, ink is forced through the screens onto the paper using a squeegee or vacuum press (for glopping lots of ink through; screenprints by Sam Gilliam or Bill Weege often have the surface texture of oil paintings; Frankenthaler's tend to be two-dimensional, like Titus-Carmel's). Normally, after each color is run, the paper is put in a rack until the paper and ink are dry enough for the next color run.

Sam Hunter's Tom Wesselmann (Barcelona: Ediciones Poligrafa, 1995) contains an excellent introduction to his work, an extensive bibliography, and lists of shows and catalogues. For other 20th-century artists interested in the nude, see the web-pages for Valerio Adami, Joan Gardy Artigas, Andre Derain, Claude Garache, Alberto Giacometti, Henri Matisse, Philip Pearlstein, Pablo Picasso, Georges Rouault, George Segal, and Dorothea Tanning.
Spaightwood Galleries, Inc.
To purchase, call us at 1-800-809-3343 (1-508-529-2511 in Upton MA & vicinity) or send an email to spaightwood@gmail.com. We accept AmericanExpress, DiscoverCard, MasterCard, and Visa.

For directions and visiting information, please call. We are, of course, always available over the web and by telephone (see above for contact information). Click the following for links to past shows and artists. For a visual tour of the gallery, please click here. For information about Andy Weiner and Sonja Hansard-Weiner, please click here. For a list of special offers currently available, see Specials.

Visiting hours: Saturday 10:00 am to 5:00 pm and Sunday noon to 6:00 pm and other times by arrangement. Please call to confirm your visit. Browsers and guests are welcome.