Click image for BBB rating
See our Privacy Policy
cool="cool" width="769" height="2657" border="0" cellpadding="0" cellspacing="0" gridx="16" showgridx="showgridx" usegridx="usegridx" gridy="16" showgridy="showgridy" usegridy="usegridy" bgcolor="#99ccff">

Welcome to Spaightwood Galleries, Inc.
120 Main Street, Upton MA 01568-6193
Pop Art in the U.S. and Europe: Peter Phillips (English, b. 1939)
Phillips was born in 1939 at Birmingham, England. From 1953 to 1955 he studied at Moseley Road Secondary School of Art, Birmingham, from 1955 to 1959 at the Birmingham College of Art. In 1959 he visited Paris and started to exhibit at the RBA Galleries, London. Between 1959 and 1962 he studied at the Royal College of Art, London, with R. B. Kitaj, Allen Jones, D. Boshier, Patrick Caulfield and David Hockney. There he saw reproductions of work by Jasper Johns and Robert Rauschenberg. He was particularly aligned to American culture and reflected its commercial iconography and aggressive advertising style in his dynamic montage paintings. One of the most important English POP artists, Phillips taught at the Coventry and Birmingham Colleges of Art in 1962 to 1963. In 1963 he was represented at the Paris Biennale, and in 1964 his work was included in the Pop Art exhibition shown at the Hague, Vienna and Berlin. From 1964 to 1966 he lived in New York and traveled in the USA with Allen Jones by car and adopted the custom car as a metaphor for the work of the artist. In 1965 he had his first one-man exhibition at the Kornblee Gallery, New York and was invited to contribute three prints to the first major Pop Art Print portfolio, 11 Pop Artists I-III. From 1968 to 1969 he was guest teacher at the Hochschule für Bildende Künste, Hamburg. He traveled in Africa, the Far East and the USA. In 1972 he had a retrospective at the Westfälischer Kunstverein, Münster, and in 1976 at the Tate Gallery, London. In 1977 he had a retrospective in Milan. In 1981 he visited Australia. In 1982-83 he had a retrospective which was shown at six British museums. In 1992-95 he visited Canada and US for exhibitions in cities including Montreal, Boston, Houston and New York. In 1996, he had exhibitions in Mallorca at the Fundacio Miro and Casal Solleric; in 2002, he was the subject of a career retrospective at Galleria Civica di Modena, Italy and was included in their "Pop Art UK" group exhibition in 2004. In 2005, he was included in the "Metamorphosis" exhibition at the Goulanderis Foundation (Andros, Greece) and the "British Pop" group exhibition at the Museo de Bellas Artes Bilbao, Spain. For more information on Phillips, see his website at http://peterphillips.com.

Selected Bibliography: In addition to discussions of Phillips in such standard works on the POP Art Movement as Judith Goldman, The Pop Image: Prints & Multiples (NY: Marlboroush Graphics, 1994), Marco Livingstone, POP ART: A Continuing History (NY: Abrams, 1990), see Enrico Crispolti, Peter Phillips (Roma: Studio d'Arte Condotti, 1969); Enrico Crispolti, Peter Phillips: Works/Opere 1960-1974 (Milano: Ideae, 1977); Roberto Sanesi, Peter Phillips (Milano: Galleria d'Arte Vinciana, 1971); Timothy Stevens, John McEwen, and Marco Livingstone, retroVISION: Peter Phillips: Paintings 1960-1962 (Liverpool: Walker Art Gallery, 1982).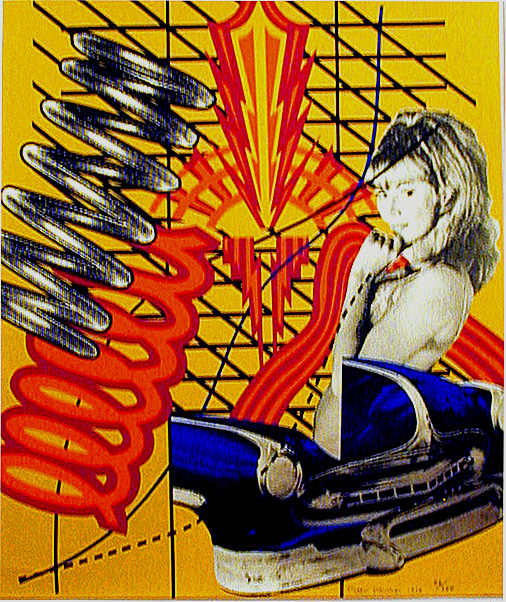 Custom Print I. Original color serigraph on alufoil, 1965. 200 signed & numbered impressions + 50 H.C. for contributors (numbered I/L-L/L) for the portfolio, 11 Pop Artists I. One of the classic POP prints, it is included in Judith Goldman, The Pop Image: Prints & Multiples (NY: Marlboroush Graphics, 1994). Image size: 605x505mm Price: SOLD.
Composition. Original color serigraph, 1970. 200 signed & numbered impressions on Rives wove paper. Once again, Phillips employs the customizing of cars as a metaphor for the work of the artist. Signed and dated lower right, numbered 164/200 lower left. Image size: 454x653mm. Price: $2000.
Spaightwood Galleries, Inc.
To purchase, call us at 1-800-809-3343 (1-508-529-2511 in Upton MA & vicinity) or send an email to spaightwood@gmail.com
We accept AmericanExpress, DiscoverCard, MasterCard, and Visa.
We also accept wire transfers and paypal.

For directions and visiting information, please call. We are, of course, always available over the web and by telephone (see above for contact information). Click the following for links to past shows and artists. For a visual tour of the gallery, please click here. For information about Andy Weiner and Sonja Hansard-Weiner, please click here. For a list of special offers currently available, see Specials.

All works are sold with an unconditional guarantee of authenticity (as described in our website listing).

Copyright 2004-2017, Spaightwood Galleries, Inc.

Go back to the top of this page.

Visiting hours: Saturday 10:00 am to 5:00 pm and Sunday noon to 6:00 pm and other times by arrangement.
Please call to confirm your visit. Browsers and guests are welcome.