Click image for BBB rating
See our Privacy Policy
cool="cool" width="784" height="2226" border="0" cellpadding="0" cellspacing="0" gridx="16" showgridx="showgridx" usegridx="usegridx" gridy="16" showgridy="showgridy" usegridy="usegridy" bgcolor="#99ccff">

Welcome to Spaightwood Galleries, Inc.
120 Main Street, Upton MA 01568-6193

You can follow us on Facebook and Twitter!
We blog regularly on Facebook and announce special events and special sales on both sites.
From 1907 to 19I0 Rudolf Schlichter was a student at the Stuttgart School of Art. Starting in 1916, he studied with Wilhelm Trubner and Hans Thoma at the School of Fine Arts in Karlsruhe. After his mobilization in World War I, he went on a hunger strike, was released, and returned to Karlsruhe where he became one of the founders of the Rih Gruppe. In 1919, he moved to Berlin where he became a member of the Novembergruppe and joined the Berlin Dada Group (several of his Dada pieces were included in the 2006 Dada exhibition at the Museum of Modern Art in NY). In 1922, a group of artists—Otto Dix, Conrad Felixmuller, Rudolf Schlichter, Carlo Mense, Carl Hofer, Georg Schrimpf, and Henrich Maria Davringhausen—mocked the Novembergruppe for having become depoliticized and subsequently formed a group named the Neue Sachlichkeit or "New Objectivity," with whom outsiders, especially Georg Grosz, showed their work (the portraits of the artists of the Neue Sachlichkeit will be on display at the Metropolitan Museum of Art in NYC until 19 February 2007; the catalogue of the show, Glitter and Doom: German Portraits from the 1920s, ed. Sabine Rewald and published by the Met in 2006, features full-page reproductions of 6 works by Schlichter, one of which is also illustrated on the rear cover of the book). Their work, all of which was condemned by the Nazis as "Degenerate," is intense, angular, and nervous. In 1924, with John Heartfield and George Grosz he created the Rote Gruppe (the Red Group). In 1928 he took part in the A.S.S.O., the association of revolutionary artists. In 1932 he left Berlin. In 1937, 17 of his works were shown by the Nazis in the infamous Entarte Kunst exhibition ("Degenerate Art") and condemned as "Jewish," "Communist," and "anti-German." He was forbidden to exhibit his works publicly; in response he painted a large work—Blinde Macht—that Eberhard Roters (Berlin 1910-1933, trans. Marguerite Munier [Secaucus: Wellfleet Press, 1982]) describes as "an allegory of iron-clad insanity" (p. 132), and comments, "Schlichter had become well-known in the Twenties for the energetic and audacious opposition contained in his drawings. In this painting, he incorporated the only feelings—helpless rage and fierce despair—that remained in his heart" (pp. 134-35). In 1938, he was imprisoned by the Nazis for three months, after which he settled in Munich. Throughout this period, his work was marked by anti-militarism and extreme left-wing politics. Roters says that "Schlichter, like his contemporary Grosz, was a brilliant draftsman given to social criticism; ferocious anger guided his pencil" (p. 124, fig. 125). Schlichter's most famous work is probably his portrait of his friend Bertolt Brecht (c. 1926-27, Munich Stadtische Galerie im Lenbachhaus), which depicts Brecht in a rumpled leather jacket, presenting him as a member of the proletariat (p. 123, fig. 124). Orrel P. Reed Jr., in German Expressionist Art: The Robert Gore Rifkind Collection—Prints, Drawings, Illustrated Books, Periodicals, Posters (Los Angeles: Frederick S. Wight Art Gallery, University of California, Los Angeles, 1977), suggests that "Schlicter is a reporter. The platform of his world is located in calligraphy, semi-abstraction, and social comment. His abstraction is taken from cubistic relocation of perspective. His calligraphy is careful and uninterrupted line, forming form without much shading, swelling into a round shape and pulling taut into a hard outline. His social commentary is comical and grotesque, at the limits of humor. His people are semi-mechanical dolls, armless, sad, or idiots, in a fantasy of social symbolism. One moves from the real back through the unreal, with some of the subject matter also beyond the limit of taste, but located enough in the fantastic to dull the horror. His line is always beautiful; too beautiful in many cases to be uninvolved. . . . His early sense of the ridiculous turns after 1922 into a kind of neorealism. His great portrait of Bert Brecht had dryness, no sentimentality, but psychological observation" (p. 321).

Selected Bibliography: For brief biographies, see the entries in E. Benezit, Dictionaire des Peintres, Sculpteurs, Dessinateurs et Graveurs (2000) and Ian Chilvers, Oxford Dictionary of 20th Century Art (London: Oxford University Press, 1998). For monographs devoted to the artist, see Berlin, Staatliche Kunsthalle, Rudolf Schlichter (Berlin: Staatliche Kunsthalle, 1984); Michael Hasenclever, Rudolf Schlichter (Munich: Galerie Michael Hasenclever, 1990); Michael Hasenclever, Rudolf Schlichter 1890-1955 (Munich: Galerie Michael Hasenclever, 2000); Giovanni Testori, Rudolf Schlichter (Milano: Galleria del Levante, 1970).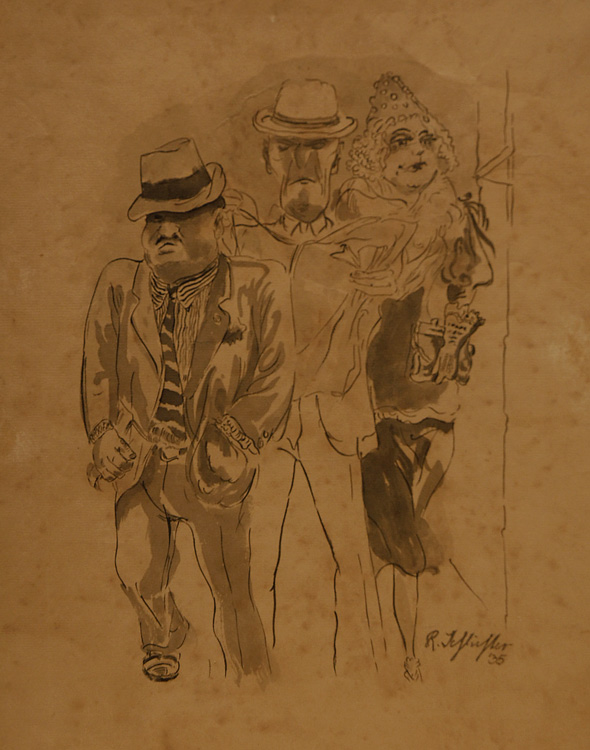 Street Scene. Ink and wash on brown laid paper, 1935. Ink and wash on brown laid paper, 1935. Signed "R. Schlichter / 36" and dated in pen lower right. Schlichter was a friend of Georg Grosz, whose 1929 painting of him at work in his studio is reproduced in Bertrand Lorquin, Annette Vogel, and Hans Wilderotter, Allemagne, les année noires (Paris: Galliard, 2007), a wonderful exhibition catalogue that accompanied a show of the works of Otto Dix, Max Beckmann, Georg Grosz, and Ludwig Meidner at the Musée Maillol in Paris. Schlichter was also a close friend of Bertolt Brecht (whose portrait he painted), Kurt Weill, and Lotte Lenya. He was imprisoned by the Nazis for ridiculing them in a large painting. After his release, he painted an even larger attack upon the regime. I'm not sure how he survived. Image size: 321x220mm. Price: $9500.
Spaightwood Galleries, Inc.
To purchase, call us at 1-800-809-3343 (1-508-529-2511 in Upton MA & vicinity) or send an email to spaightwood@gmail.com
We accept AmericanExpress, DiscoverCard, MasterCard, and Visa.
We also accept wire transfers and paypal.

For directions and visiting information, please call. We are, of course, always available over the web and by telephone (see above for contact information). Click the following for links to past shows and artists. For a visual tour of the gallery, please click here. For information about Andy Weiner and Sonja Hansard-Weiner, please click here. For a list of special offers currently available, see Specials.

All works are sold with an unconditional guarantee of authenticity (as described in our website listing).

Copyright 2004-2017, Spaightwood Galleries, Inc.

Go back to the top of this page.

Visiting hours: Saturday 10:00 am to 5:00 pm and Sunday noon to 6:00 pm and other times by arrangement.
Please call to confirm your visit. Browsers and guests are welcome.