Click image for BBB rating
See our Privacy Policy
cool="cool" width="849" height="3579" border="0" cellpadding="0" cellspacing="0" gridx="16" showgridx="showgridx" usegridx="usegridx" gridy="16" showgridy="showgridy" usegridy="usegridy" bgcolor="#99ccff">

Welcome to Spaightwood Galleries, Inc.
120 Main Street, Upton MA 01568-6193

You can follow us on Facebook and Twitter!
We blog regularly on Facebook and announce special events and special sales on both sites.
Old Master Paintings, Drawings, and Prints: Willem Buytewech (Rotterdam, 1591/92-1624)
Although Willem Buytewech was born in Rotterdam in 1591/92 and died there in 1624, his work is is best seen with that of the younger artists working in Haarlem at the beginning of the 17th century (he was admitted to the Haarlem Guild of St. Luke in 1612). Maria van Berge-Gerbaud's article on Buytewech in the Grove Dictionary of Art, 5: 323-326, stresses his "highly praised versatility," which, she suggests, "emerges not only from his use of different techniques but also from his great range of subjects, especially in his drawings: religious and historical scenes, figures, interiors, scenes of everyday life, allegories, groups, architectural features, landscapes, designs for book illustrations, etc. Only a few works are dated, making it difficult to establish a chronological and stylistic development, especially as they were produced over such a short period" (p. 323). The most important critical study is Willem Buytewech 1591-1624 (Paris: Institut Néerlandais, 1974), the catalogue of a joint exhibition at the Museum Boysmans-van Beuningen in Rotterdam and the Institut Néerlandais in Paris, with an introductory essay by E. Haverkamp Begemann.

Select Bibliography: E. Haverkamp Begemann, Willem Buytewech (Amsterdam: Institut Néerlandais, 1959); J. GIltay et al; introduction by E. Haverkamp Begemann, Willem Buytewech 1591-1624 (Paris: Institut Néerlandais, 1974)
Methuselah and his children (see (Jan Sadeler, TIB 7001.34, Holl. 1980 34). Grisaille on wood after an engraving by Jan Sadeler based on a drawing by Maarten de Vos, c. 1612-15. Although our piece is not done in one of his later styles, Haverkamp Begemann (1974) includes a 1615 drawing very reminiscent of Goltzius or Matham (Willem Buytewech 1591-1624, item 24, plate 46) and the commentary notes that familiarity with the works of 16th-century Northern European artists could have been expected at that time (e.g., Rudolph II's fixation on Durer, the Lucas van Leyden revival in Goltzius' circle). Given that the Wierix brothers made engravings after Durer's prints for their Master's pieces, it seems possible that Buytewech made this for a similar purpose (which would suggest a date of c. 1612). Another possibility is that given the sheer number of drawings by Maarten de Vos (1531-1603) made for engravers and print publishers (c. 1600 engravings were made based upon his drawings), Buytewech could have been familiar with them in general and this one in particular and may have chosen it to advertise his familiarity with the traditions of late 16th-century Netherlandish art and his skill at working in different media; it could also have been a commission for a young artist just beginning a career that might have been useful from a financial point of view as well as showing his ability to meet a patron's needs. If Buytewech was born in 1591, he was about 24-25 years old when he did the Goltzius-style "Homme en costume de fantasie"; when he was admitted master in 1612 (in Haarlem, where he had been living since 1611), he was then 21-22 and perhaps feeling a need to show his mastery of all of the recent Netherlandish styles. Buytewech's drawings were interesting enough that some of them were engraved by others (including C. van Kittensteyn, G. van Schneydel, and Jan II van de Velde) and collected by others including Rembrandt. Interestingly, his drawings make much higher prices at auction than his paintings (Christie's NY and London records 4 sales between 2002 and 2006 ranging from $94,973 (a small study of a man in the manner of Goltzius or Matham [Haverkamp Begemann plate 46]) to $420,000 (the two in the middle sold for $380,000 and $400,000), all of which were in one of his later styles and all of which were much smaller than ours. Condition: very good save for a small chip lower edge center; the wood has warped and it has been mounted on a wood cradle to prevent further warping and to stabilize it. Image size: 398x613mm (15-3/4x24-3/16 inches). Price: $150,000.
The work is signed with Buytewech's monogram, which is shown in many of the works reproduced in Willem Buytewech 1591-1624, including in the illustration on the front cover.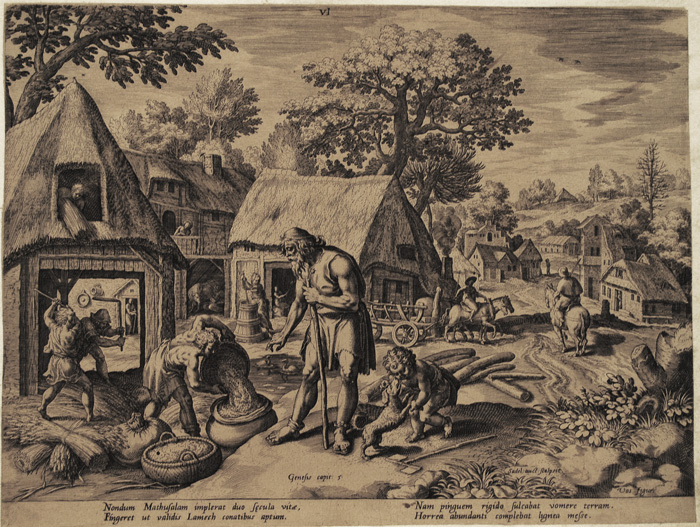 Jan Sadeler (Dutch, 1550-1600), Methuselah and his children (TIB 7001.034, Holl. de Vos 46). Engraving after Maarten de Vos, 1586. One of the many collaborations between Maarten de Vos and Jan Sadeler, here as part of a series on The Story of the Family of Seth (1586). Inscribed at top: "VI"; "Sadel: auct: scalpsit / Vos figur" lower right. The story of the Creation, Fall, and its Consequences may have seemed to offer a way of understanding the religious wars during the period, especially in the Netherlands, where Spanish armies were frequently unleashed upon towns and cities where Protestants could be found and slaughtered. Image size: 208x274mm. Included with the painting above.
Spaightwood Galleries, Inc.
To purchase, call us at 1-800-809-3343 (1-508-529-2511 in Upton MA & vicinity) or send an email to spaightwood@gmail.com
We accept AmericanExpress, DiscoverCard, MasterCard, and Visa.
We also accept wire transfers and paypal.

For directions and visiting information, please call. We are, of course, always available over the web and by telephone (see above for contact information). Click the following for links to past shows and artists. For a visual tour of the gallery, please click here. For information about Andy Weiner and Sonja Hansard-Weiner, please click here. For a list of special offers currently available, see Specials.

All works are sold with an unconditional guarantee of authenticity (as described in our website listing).

Copyright 2004-2017, Spaightwood Galleries, Inc.

Go back to the top of this page.

Visiting hours: Saturday 10:00 am to 5:00 pm and Sunday noon to 6:00 pm and other times by arrangement.
Please call to confirm your visit. Browsers and guests are welcome.