Click image for BBB rating
See our Privacy Policy
cool="cool" width="817" height="3736" border="0" cellpadding="0" cellspacing="0" gridx="16" showgridx="showgridx" usegridx="usegridx" gridy="16" showgridy="showgridy" usegridy="usegridy" bgcolor="#99ccff">

Welcome to Spaightwood Galleries, Inc.
120 Main Street, Upton MA 01568-6193
Chagall: Etchings for Et Sur La Terre
Et sur la terre, a collaboration with his old friend, Andre Malraux, winner of the Nobel Prize for Literature, hero of the Resistance against the Nazis, and Minister of Culture in the government of Charles de Gaulle, is based upon a previously unpublished text Malraux wrote in 1939 about his experiences fighting on the Republican side in the Spanish Civil War against Franco and his Fascist and Nazi allies.

The etchings for Et sur la terre were executed by Chagall in 1977. Et sur la terre was issued in an edition of 205 portfolios printed on velin d'Rives, each of which was signed on the colophon by Chagall and numbered. The first 25 portfolios contained an additional impression of the frontispiece signed and numbered by Chagall. The cpooer plates were cancelled after printing. The work was published by Maeght Editeur in Paris. The etchings were printed by Jacques Frélaut and Roger Lacourière.

Bibliography: Patrick Cramer, Marc Chagall: The Illustrated Books (Geneva: Patrick Cramer Publisher, 1995); Roger Passeron, Maîtres de la Gravure: Chagall (Paris: Bibliothèque des Arts, 1984); Charles Sorlier, Le Livre des Livres / The Illustrated Books (Monte Carlo: Editions André Sauret, 1990). Cramer illustrates all fifteen of the etchings, Sorlier illustrates three, andd one is included in Passeron.
Et sur la terre 5 (Cramer 103, Sorlier, p. 162). Original etching, 1958. 205 unsigned impressions on Rives. Full page illustration in Passeron. Image size: 313x235mm. Price: $3500.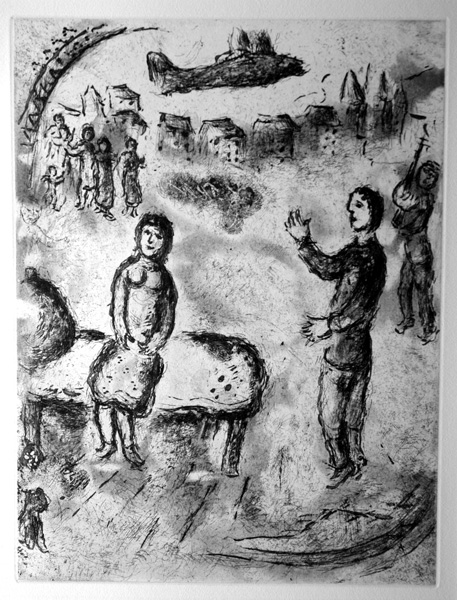 Et sur la terre 7 (Cramer 103, Sorlier, p. 162). Original etching, 1958. 205 unsigned impressions on Rives. Image size: 313x235mm. Price: $3500.
Et sur la terre 10 (Cramer 103, Sorlier, p. 162). Original etching, 1958. 205 unsigned impressions on Rives. Image size: 313x235mm. Price: $3500.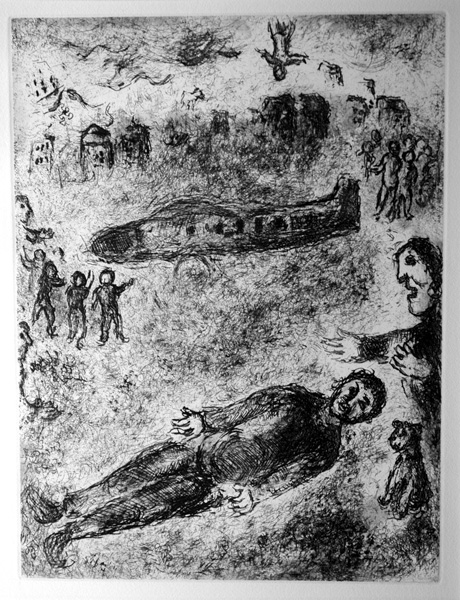 Et sur la terre 14 (Cramer 103, Sorlier, p. 162). Original etching, 1958. 205 unsigned impressions on Rives. Image size: 313x235mm. Price: $3500.
In his introduction to Et Sur La Terre in Maitres de la Gravure: Chagall, Roger Passeron has some interesting comments about André Malraux's Preface to the work:

In 1977, Galerie Maeght produced Et sur la Terre, Andre Malraux's book on the Spanish Civil War, illustrated with 15 aqautints in black and white by Chagall. The book was published in an edition of 205 copies, numbered 1 to 205 signed on the colophon by Chagall. In a letter Malraux sent Chagall and published by Maeght in April 1977, Malraux, the writer, government minister, and long-time admirer, marveled at the fidelity of and complete rapport of Chagall's illustrations with his text. He was even more astonished, he said, for in sending the manuscript he expressed his own views and then said, "do what you did with the Dead Souls (1923-27) or the Anti-Memoires (1969)." And then, Malraux went on, he made a few "suggestions' not just to show him what not to do but what to do! Don't attach too much importance to the characters, he told Chagall, it's not necessary to show anything more than shadows. And for the décor, make it a vague hall in a hotel during the war in Spain, with that eerie light during black-outs, the "Prussian blue" blisters, the streets in Barcelona at night, and for the towns, "show the abundant vegetation, the sky against the sea, the deep green of the trees." In the letter Malraux continued to talk about what he had expected based on the latest paintings and lithographs of Chagall's he had seen: he had imagined the illustrations would be filled with the Milky Way, the environment on fire with illusions. Thus his astonishment. He had forgotten that Chagall was a meticulous illustrator, and that he should have understood from his earlier books. The evidence was there, in the work, for each of the books described, underlined the fidelity of Chagall in the rapport of the text of the book and the illustrations of the artist.

Passeron further comments: But what was the most curious was that a man of the quality of André Malraux, with his formidable artistic culture, with his close relationships with all the great artists of the twentieth century, Picasso, Masson, Chagall, Braque, Miro, with those who were the most important to Kahnweiler, could be ignorant of such a fundamental truth: for modern artists , all work commanded within such precise limits appears as a constraint and restricts all liberty of expression. In our time, there is no art without liberty, without liberty the artist becomes a mediocrity, a failure. Never did Vollard, never did Kahnweiler make such a mistake. At most, they threw out a really vague idea, especially Vollard, and were never astonished by what followed. Chagall followed his own inspiration, without deviating from his habitual method. We've noted elsewhere that these aquatints are the only engravings he made that represent bombers and artillery of modern war. . . .
Spaightwood Galleries, Inc.
To purchase, call us at 1-800-809-3343 (1-508-529-2511 in Upton MA & vicinity) or send an email to spaightwood@gmail.com.
We accept AmericanExpress, DiscoverCard, MasterCard, and Visa.
We also accept wire transfers and paypal.

For directions and visiting information, please call. We are, of course, always available over the web and by telephone (see above for contact information). Click the following for links to past shows and artists. For a visual tour of the gallery, please click here. For information about Andy Weiner and Sonja Hansard-Weiner, please click here. For a list of special offers currently available, see Specials.

All works are sold with an unconditional guarantee of authenticity (as described in our website listing).

Go back to the top of this page.

Visiting hours: Saturday 10:00 am to 5:00 pm and Sunday noon to 6:00 pm and other times by arrangement.
Please call to confirm your visit. Browsers and guests are welcome.