Click image for BBB rating
See our Privacy Policy
cool="cool" width="784" height="2555" border="0" cellpadding="0" cellspacing="0" gridx="16" showgridx="showgridx" usegridx="usegridx" gridy="16" showgridy="showgridy" usegridy="usegridy" bgcolor="#99ccff">

Welcome to Spaightwood Galleries, Inc.
120 Main Street, Upton MA 01568-6193

You can follow us on Facebook and Twitter!
We blog regularly on Facebook and announce special events and special sales on both sites.
Lyonel Feininger (German-American, 1871-1956)
Lyonel Feininger was born in New York City to parents of German-American descent; his father, Carl Feininger, was a concert violinist . He and his family travelled to Germany in 1887 so that he could study music, but he found himself more interested in art. He became an illustrator and cartoonist while studying at the Berlin Academy. Feininger only started working as an artist at the age of 36, after having worked as a commercial caricaturist for twenty years for various newspapers and magazines in both the USA and Germany; he was a member of the Berliner Sezession in 1909, was associated with expressionist group Die Brücke, the Novembergruppe, Gruppe 1919, the Blaue Reiter circle and The Blue Four. In 1919, he was invited by Walter Gropius to join the staff of the Bauhaus. He designed the cover for the Bauhaus 1919 manifesto - an expressionist woodblock 'cathedral'. He also taught at the Bauhaus (along with Klee and Kandinsky) from 1919 to 1935 and served as Director of Graphics for part of that time. When the Nazis came to power in 1933, the situation became more and more difficult for Feininger and his wife, who was partly Jewish. They moved to America after his work was exhibited in the 'degenerate art' (Entartete Kunst) in 1936, but before the 1937 exhibition in Munich. His works were included in the Nazi's "Degenerate Art" Exhibition of 1937. After returning to the U.S., he taught and exhibited at the Museum of Modern Art (1944), the Institute of Contemporary Art (Boston, 1949), and the Cleveland Museum of Art (1951), and many other museums in the U.S. and Europe.

Selected Bibliography: L. E. Prasse, Lyonel Feininger: A Definitive Catalogue of His Graphic Work (Cleveland: Cleveland Museum of Art, 1972); Wolfgang Büche, Lyonel Feininger Gelmeroda. Ein Maler und sein Motiv (Stuttgart: Hatje, 1995); Dallas Museum for Contemporary Arts, A Retrospective: Lyonel Feininger (Dallas: Dallas Museum for Contemporary Arts, 1963); Lyonel Feininger and William S Lieberman ed., Lyonel Feininger: The Ruin by the Sea (New York: The Museum of Modern Art, 1968); Hanz Hess, Lyonel Feininger (NY: Harry N Abrams, 1959); Ulrich Luckhardt, Lyonel Feininger (München: Prestel, 1989), Ulrich Luckhardt & Martin Faass, Lyonel Feininger. Die Zeichnungen und Aquarelle (Hamburg: Hamburger Kunsthalle, Kunsthalle Tübingen, 1998); Roland März, Lyonel Feininger. Von Gelmeroda nach Manhatten. Retrospektive der Gemälde. Mit Beiträgen von Wolfgang Büche, Martin Faass, Lux Feiniger u. a (Berlin: G+H, 1998); Ingrid Mössinger, Lyonel Feininger (München: Prestel Verlag, 2006); June L. Ness, Lyonel Feininger (NY: Praeger Publishers, 1974); Leona E. Prasse & Frederick S. Wight, The Work of Lyonel Feininger Catalogue of an Exhibition (Cleveland: Cleveland Museum of Art, 1951); Felicitas Tobien, Lyonel Feininger (UK: Artline Editions, 1989).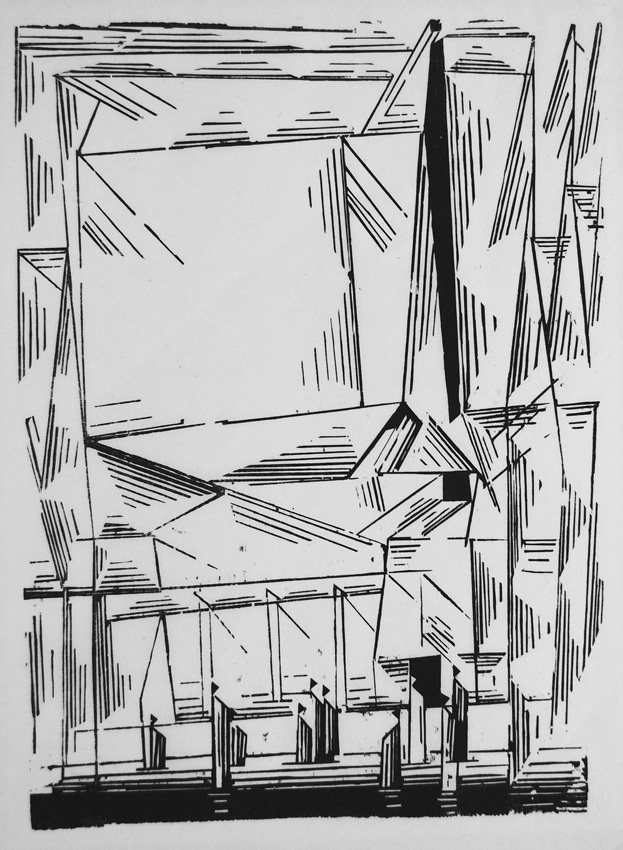 Gelmeroda (Prasse W237). Original woodcut, 1920. 300 impressions for the Cleveland Print Club published in 1958. Printed by the Spiral Press (NY City) on handmade Sekishu Natural Japanese paper. Light tanning outside the image area not affecting the image. Image size: 343x242mm. Price: $1500.
Buttelstedt (Prasse W208, Davis-Rifkind 567). Original woodcut, 1920. Published in Georg Biermann, ed. Jahrbuchder Jungen Kunst (Liepzig: Klinkhardt & Biermann, 1920). Image size: 203x155mm. Price: $1500.
Spaightwood Galleries, Inc.
To purchase, call us at 1-800-809-3343 (1-508-529-2511 in Upton MA & vicinity) or send an email to spaightwod@gmail.com.
We accept AmericanExpress, DiscoverCard, MasterCard, and Visa.
We also accept wire transfers and paypal.

For directions and visiting information, please call. We are, of course, always available over the web and by telephone (see above for contact information). Click the following for links to past shows and artists. For a visual tour of the gallery, please click here. For information about Andy Weiner and Sonja Hansard-Weiner, please click here. For a list of special offers currently available, see Specials.

All works are sold with an unconditional guarantee of authenticity (as described in our website listing).

Go back to the top of this page.

Visiting hours: Saturday 10:00 am to 5:00 pm and Sunday noon to 6:00 pm and other times by arrangement.
Please call to confirm your visit. Browsers and guests are welcome.