Click image for BBB rating
See our Privacy Policy
cool="cool" width="784" height="5110" border="0" cellpadding="0" cellspacing="0" gridx="16" showgridx="showgridx" usegridx="usegridx" gridy="16" showgridy="showgridy" usegridy="usegridy" bgcolor="#99ccff">

Welcome to Spaightwood Galleries, Inc.
120 Main Street, Upton MA 01568-6193

You can follow us on Facebook and Twitter!
We blog regularly on Facebook and announce special events and special sales on both sites.
Conrad Felixmüller (German, 1897-1977)
"Between 1911-15 Conrad Felix Müller (later Felixmüller) attended the School of Applied Arts in Dresden. He met Arnold Schonberg in 1914 and immediately became a member of the Dresden Secession. During his stay in Berlin in 1915 he met Ludwig Meidner and started working for Der Sturm periodical. Between 1916-27 he contributed to Die Aktion, a similar publication. Felixmuller joined the November Group in 1919 after founding the Dresden Secession Group. In 1923 he met Frans Masereel and exhibited at the National Gallery in Berlin. Felixmuller's work was shown at both the Nazi exhibition Reflections of Decay in 1933 and the Degenerate Art exhibition in Munich in 1937. He visited Norway and England in 1938-39. After the war he was appointed Professor at the Martin Luther University from 1949-1962." (From The Marvin and Janet Frishman Collection catalog, Sotheby's/London: 2000)

"Conrad Felixmüller is one of the more important artists of the Weimar Era. Like his colleagues George Grosz and John Heartfield, he was galvanized by the social changes that swept Germany in the early 1920s. However, his initial enthusiasm for Socialist reform waned after several years due to political infighting. Though Felixmüller's work has a strong humanistic orientation, it is less biting and politically charged than that of some of his colleagues. Born in Dresden, Felixmüller studied music in his youth, but switched to fine art in 1911. In 1912, he was admitted to the Dresden Academy, and in 1914 he joined the Dresden Secession. The next year, Felixmüller traveled to Berlin, where he met Hannah Höch, Wieland Herzfelde, Ludwig Meidner and Raul Hausmann, and exhibited at Der Sturm gallery. In 1916, he began contributing to the political periodical Die Aktion, and in 1917 he co-founded the periodical Menschen. During the First World War, Felixmüller served in the military as a nurse's aid. Felixmüller joined the Communist party after the war (until 1926) and began exhibiting with the Freie Sezession in Berlin. In 1919, he founded the Dresdner Sezession-Gruppe 19 and joined the Novembergruppe. That same year he withdrew from the Dresdner Sezession as the group could not reach a consensus on a political-artistic program. During the Weimar years, Felixmüller exhibited and taught continually. He was elected president of the Saxon Union of Visual Artists and secretary of the National Union of Visual Artists. He was also awarded the Saxon State Prize for painting (Dresden) in 1920, the Grand Prize for painting (Dresden) in 1928 and the Grand Prize for painting and the Dürer Stipend (Nuremberg) in 1931. In 1933, forty pieces by Felixmüller were included in the Nazi exhibition "Reflections of Decay" at the Municipal Museum in Dresden. Seven of his works were included in the "Degenerate Art" exhibition in 1937, and 141 of his works were removed from public collections. In 1944 his studio in Berlin was bombed by the Allies. After the Second World War, Felixmüller resumed teaching in Germany." (From Galerie St. Etienne, NY)

Selected Bibliography: Friedrich W. Heckmanns, Conrad Felixmüller: Das druckgraphische Werk 1912 bis 1976 (Düsseldorf: Kunstmuseum Düsseldorf, 1986); Gerhart Sohn, Conrad Felixmüller: Das Graphische Werk 1912-1974 and 1975-1977. 2 vol. (Düsseldorf: GS Editions, 1987); Heinz Spielmann, Conrad Felixmüller: Monographie und Werkverzeichnis der Gemalde (Cologne: Wienand, 1996); Behr & Wadsley, Conrad Felixmuller 1897-1977. Between Politics And The Studio (Leicester: Leicestershire Museum, 1994); Titus Felixmuller & Steven Schuyler, Conrad Felixmuller 1897-1977: Prints and Drawings from the Collection of Dr. Ernst and Anne Fischer (Charlottesville: University of Virginia Art Museum, 1979); Dieter Gleisberg, Conrad Felixmüller Leben und Werk (Dresden: VEB Verlag der Kunst, 1982); Ulrich Krempel, Conrad Felixmüller Die Dresdner Jahre 1910-1934 Ausstellung Gemäldegalerie Neue Meister Dresden und Sprengel Museum Hannover (Cologne: Wienand Verlag, 1997); Christian Rathke, Conrad Felixmuller (Schleswig-Holsteinisches Landesmuseum, 1990); J. Uhlitzsch & H. Ebert, Conrad Felixmüller: Gemalde. Aquarelle, Zeichnungen, Druckgraphik (Dresden / Berlin: Staatliche Kunstsammlungen / Staatliche Museen, 1975).
Ruderer und Segelboote / Rower and sailboat (Sohn 1026). Original woodcut as published in die Aktion, c. 1917-1918. Initialed in the block lower left; below the image is the text" Felix Muller / Ruderer und Segelboote." There are paper losses in the margins; the paper has become brittle with age, but there have been no losses since we purchased it in the 1970s. Image size: 145x85mm. Price: $750.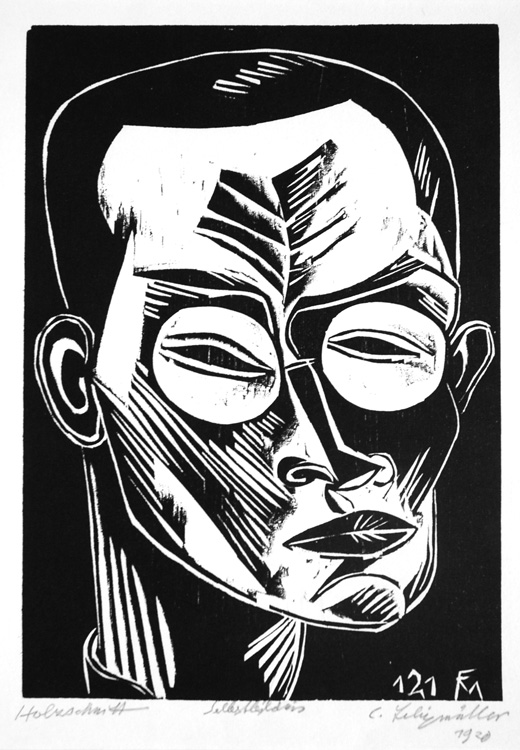 Self-portrait (Heckmanns gives a full page illustration on page 37, but does not include it in his numbered section. Ours differs from his photograph by the addition of the numbers 121 to the left of the initials in the block, Davis-Rifkind 610). Original woodcut, 1919. Published in Georg Pfister, ed. Deutsche Graphiker der Gegenwart (Leipzig: Klinkhardt & Biermann, 1920, pl. 24), edition: 600 unsigned impressions. Ours is a rare pencil-signed impression annotated in pencil by the artist "Holzschnitt" (lower left), "Selbsbildnis" (center), and signed "C. Felixmüller / 1920" lower right. One of Felixmüller's most iconic selfportraits from the start of his involvement with what would become the Neue Sachlichkeit / New Objectivity movement. One of his most important prints. Image size: 240x170mm. Price: SOLD.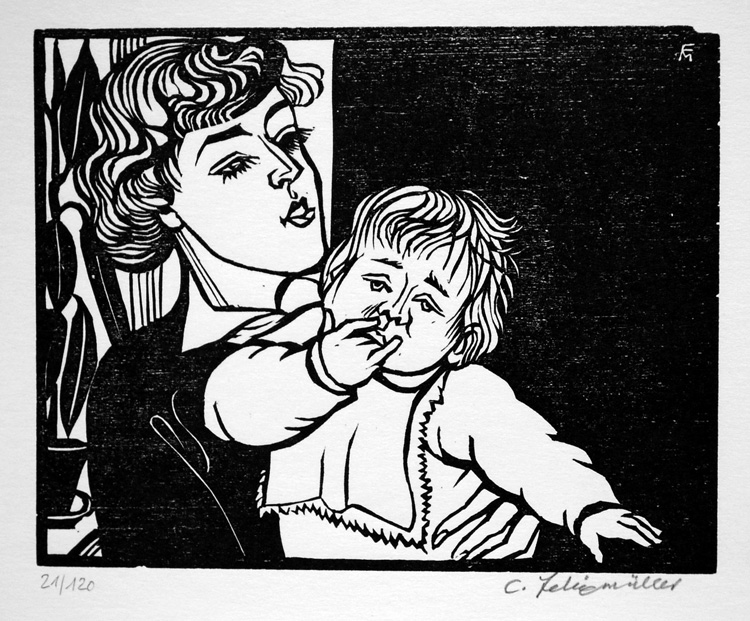 Der Daumenlutscherbub / Mother and Child (Sohn 523). Original woodcut, 1959. Edition unknown; ours is one of 120 signed and numbered impressions from an edition published on the occasion of a retrospective of Felixmuller's Graphik 1914-1975. Signed in the block top left. Image size: 95x120mm. Price: $850.

This is about life-size on our 24-inch monitor. Image size varies with the size of the monitor.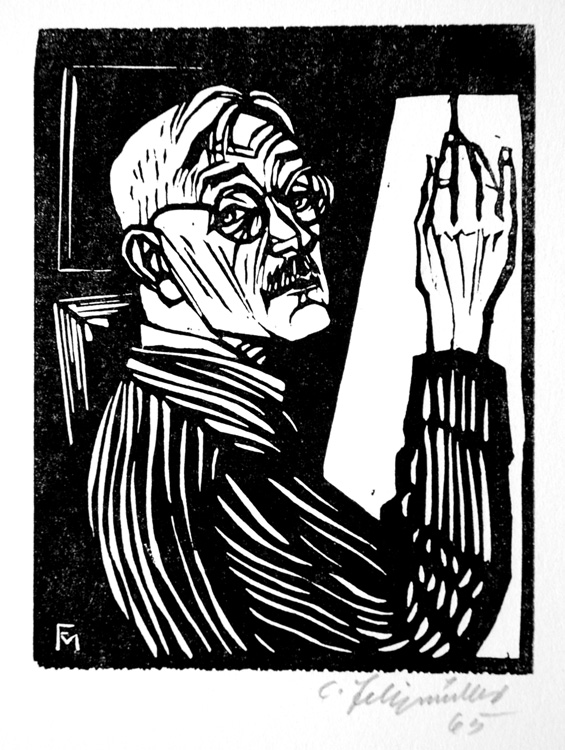 Self-Portrait at the Easel. Original woodcut, 1965. Initialed in the block lower left. Edition unknown; ours is a pencil-signed and dated impression. Image size: 120x94mm. Price: SOLD.

This is about life-size on our 24-inch monitor. Image size varies with the size of the monitor.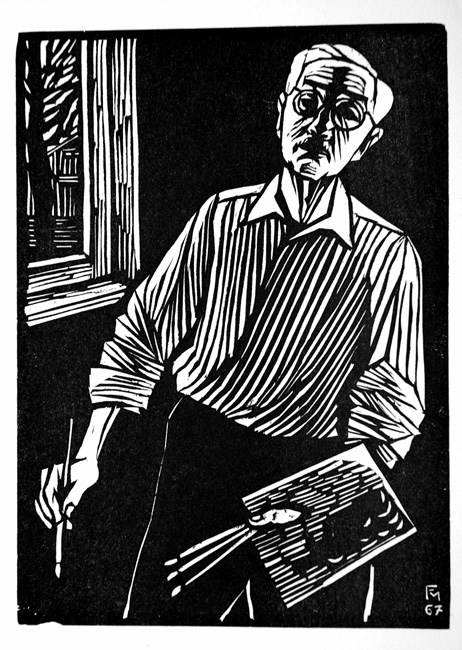 Self-Portrait at the Easel. Original woodcut, 1967. Initialed and dated in the block lower right. Edition unknown. Image size: 174x125mm. Price: $400.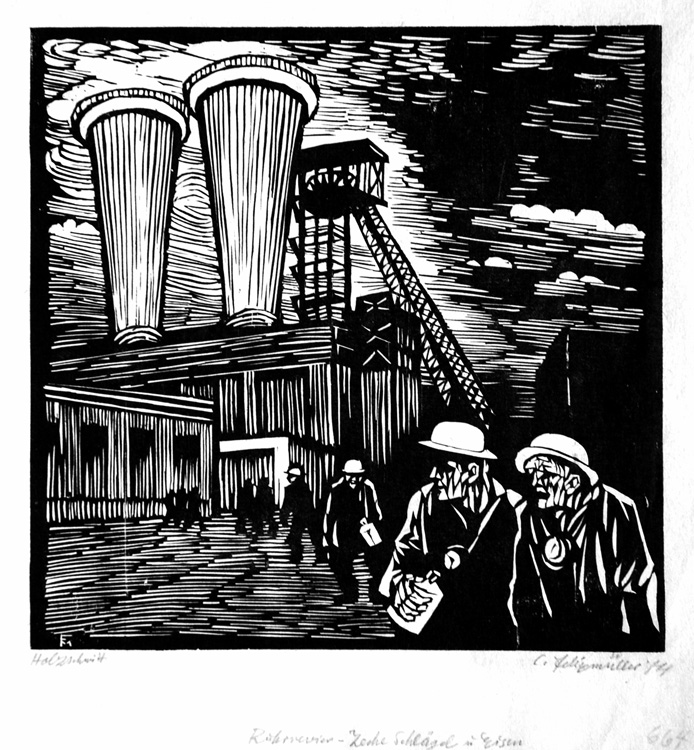 Auf der Zeche Schlägel und Eisen Herten (Heckmanns 557). Original woodcut, 1974. Printed on Japon paper and annotated "Holzschnit" lower left, signed "C. Felixmüller 74" lower right and titled in pencil bottom central, all in the artist's handwriting. Heckmanns notes the existence only of a "Probdruck" or a trial proof, which is aparently what we are offering. Image size: 205x207mm. Price: SOLD.
Spaightwood Galleries, Inc.
To purchase, call us at 1-800-809-3343 (1-508-529-2511 in Upton MA & vicinity) or send an email to spaightwood@gmail.com
We accept AmericanExpress, DiscoverCard, MasterCard, and Visa.
We also accept wire transfers and paypal.

For directions and visiting information, please call. We are, of course, always available over the web and by telephone (see above for contact information). Click the following for links to past shows and artists. For a visual tour of the gallery, please click here. For information about Andy Weiner and Sonja Hansard-Weiner, please click here. For a list of special offers currently available, see Specials.

All works are sold with an unconditional guarantee of authenticity (as described in our website listing).

Copyright 2004-2017, Spaightwood Galleries, Inc.

Go back to the top of this page.

Visiting hours: Saturday 10:00 am to 5:00 pm and Sunday noon to 6:00 pm and other times by arrangement.
Please call to confirm your visit. Browsers and guests are welcome.