Click image for BBB rating
See our Privacy Policy
cool="cool" width="819" height="2142" border="0" cellpadding="0" cellspacing="0" gridx="16" showgridx="showgridx" usegridx="usegridx" gridy="16" showgridy="showgridy" usegridy="usegridy" bgcolor="#99ccff">

Welcome to Spaightwood Galleries, Inc.
120 Main Street, Upton MA 01568-6193
Old Master Prints: Hendrik Goudt (Dutch, 1583-1645)
According to the Grove Dictionary of Art (13:222-223), Goudt may hace trained with Simon Frisius, but he was more strongly influenced by Jacques de Gheyn II and especially Hendrik Goltzius, whose engraved figures strongly influenced Goudt. In 1608, Goudt went to Rome and seeems to have worked with Adam Elsheimer, to whom he may have been both patron and pupil. His most important service for Elsheimer, however, may have been the 7 engravings he made after some of his. These were widely disseminated throughout Europe and made Elsheimer famous. As Keith Andrews suggests, "the quality of the engravings is something of a miracle, since no previous works by Goudt anticipate such masterpieces, which with their strong sense of of chiaroscuro foreshadow the technique of mezzotint." our print was made in 1612-13, after Goudt had returned to the northern Netherlands" (222). Unlike his first two prints, which declare Elsheimer as "inventor," these do not. Andrews suggests the Goudt may have owned the paintings he engraved, since he apparently showed some of them to Sandrart when the latter visited him in Utrecht in 1625 and 1626. Our piece, The Beheading of John the Baptist (Hollstein 4), is the only one without a date. Goudt registered with the Utrecht guild of St. Luke as an engraver (1611), but many of the drawings previously attributed to Elsheimer are now ascribed to Goudt.

Bibliography on Goudt: The only works in English on Goudt is the section on him in Keith Andrews, Adam Elsheimer (Oxford, 1977) and a note by Felice Stampfle, Goudt's Drawings of Tobias and the Angel," Essays in Northern European Art Presented to Egbert Haverkamp-Begemann (Doornspijk, 1983). There are a number of works in Dutch and German however, helpfully listed in the Grove article.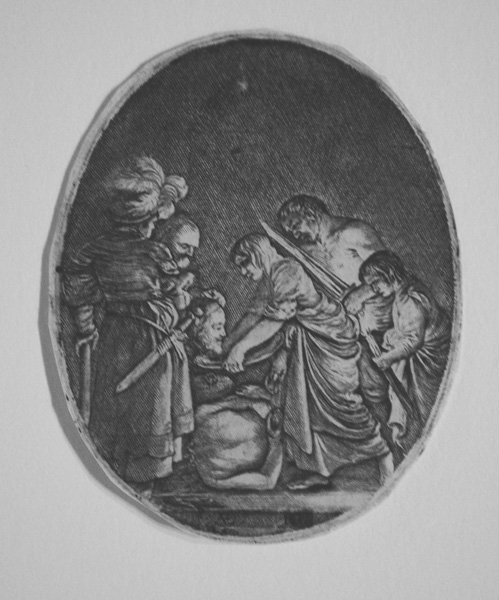 John the Baptist's Head placed on a Salome's platter (Hollstein 4 i/iii). Engraving after Adam Elsheimer, 1612-13. Ours is a good impression on laid paper with thread margins. There is a small paper loss upper right. It is signed in the plate lower right with the artist's monogram. This is one of only seven prints by Goudt, who has been called "the pivotal figure in the quest for dark tonalities in 17th-century Dutch printmaking" and an important influence on Rembrandt. See Ackley, 1982. Image size: 66x55mm. Price: SOLD

Note: Our photograph is larger than life.
Spaightwood Galleries, Inc.
To purchase, call us at 1-800-809-3343 (1-508-529-2511 in Upton MA & vicinity) or send an email to spaightwood@gmail.com.
We accept AmericanExpress, DiscoverCard, MasterCard, and Visa.
We also accept wire transfers and paypal.

For directions and visiting information, please call. We are, of course, always available over the web and by telephone (see above for contact information). Click the following for links to past shows and artists. For a visual tour of the gallery, please click here. For information about Andy Weiner and Sonja Hansard-Weiner, please click here. For a list of special offers currently available, see Specials.

All works are sold with an unconditional guarantee of authenticity (as described in our website listing).

Go back to the top of this page.

Visiting hours: Saturday 10:00 am to 5:00 pm and Sunday noon to 6:00 pm and other times by arrangement.
Please call to confirm your visit. Browsers and guests are welcome.