Click image for BBB rating
See our Privacy Policy
cool="cool" width="802" height="3474" border="0" cellpadding="0" cellspacing="0" gridx="16" showgridx="showgridx" usegridx="usegridx" gridy="16" showgridy="showgridy" usegridy="usegridy" bgcolor="#99ccff">
---
Spaightwood Galleries
Recent Acquisitions
3/16/07: Over the past three years, we have vastly strenghtened our holdings of drawings in several areas: old master, 19th-century and 20th-century drawings (some of these were on display at the gallery during the summer of 2001 or the Winter of 2002; most are now available on our web site at Drawings from the late 15th century to the early 21st); we have just finished adding more than 50 old master drawings (mostly Italian and Netherlandish, including pieces by Marcantonio Raimondi, Giulio Romano (the only artist Shakespeare ever mentions by name), Andrea Schiavone, Cherubino Alberti, Domenicino, Guercino, Simoni Cantarini, Antonio Busca, someone close to Rubens (if not Rubens himself), Abraham Bloemaert, a red-chalk drawing after Jacob Mathan's engraving of Goltzius drawing of Sarah overhearing the three angelic visiots to her house that she will become a mother, and a number of anonymous 17th-century Italian artists) to our web site. We have also acquired 27 18th-century red-chalk and black chalk drawings; some are signed I:D:N, one is signed "de Neuff" with some less legible letters that look like "forg" with a flourish (probably Jean François de Neufforge, a French sculptor, engraver, and architect, who was born in Comblain-au-Point, 1714 and died in 1791 in Paris), others are unsigned but include in some cases alternate versions of the pieces that are signed and that are clearly by the same hand. Also in our eighteenth-cetury drawings collection: works by Giuseppe Maria Crespi, Mouricault, and Etienne Parrocel.

We have also added a number of Northern Renaissance prints by artists such as Albrecht Durer, Lucas van Leyden, Hans Sebald Beham, Hans Aldegrever, Hendrik Goltzius, Jacob Matham, Jan Saenredam, Jan Sadeler, Aegidius Sadeler, and Raphael Sadeler, and engravings after Marten de Vos, with many more to come; we will also be adding two works by Giorgio Ghisi after Michelangelo to the group of web pages we recently added featuring drawings and / or prints by Parmigianino, Giorgio Ghisi, Cherubino Alberti, Annibale Carracci, and Gerolamo Scarsello as part of an updating of our Italian Renaissance print offerings this coming summer. We just purchased five etchings by Rembrandt, one of which has laready been sold; they are now available for viewing along with two drawings by artists in Rembrandt's circle (you can see them at School of Rembrandt).

The Impressionists, Post-Impressionists, and Fauves continue to be of interest to us (as witnessed by our Fall 2002 show), and we have added new works by Renoir (a very early nude in a very small edition), Mary Cassatt (two lovely co Lledos_Mixed_media2.html lor drypoints and a beautiful impression of Denise holding her child), drawings by Eva Gonzales, Manet's only pupil, Maximilien Luce and Henri-Edmund Cross as well as one of Cross's color lithographs in his pointillist mode, and several new pieces by Whistler (three lithographs) as well as a signed nude by Dufy, two etchings hand-colored in gouache and watercolor by Rouault that show him working out the final color scheme for Christ au Faubourg / Christ in the Neighborhood, one of the pieces in The Passion. We have added fourteen beautiful pieces to our Fauves selections, a rich Vlaminck lithograph (see it at Vlaminck) and five Derain lithographic nudes executed in the late 1920s from the collection of the publisher, five more with the studio and artist signature stamps on the verso, indicating that they were in Derain's studio at the time of his death and were sold under the supervision of the French government, two smaller signed red lithographic figure studies, and an ink drawing of a bull with Derain's signature stamp.

As always, we try to find strong pieces by Chagall and Miró; if you look at the Virtual Tours for Miró 2006 and Chagall 2006 (closing 3/18/07) you can see most of them. We also added three etchings by Magritte (according to the 1982 catalogue of Magritte's prints, during his life he published 2 lithographs and 9 etchings; an additional 8 were published in the 1968. Counting the three posthumously by Magritte's heirs with their blindstamp, the total of Magritte's original prints now stands at 22, of which 2 are lithographs and 20 are etchings. We recently acquired two Chagall etchings from The Bible (1930-1937 and 1950-1956), one of which is a unique completely hand-painted mixed-media piece done by Chagall as he worked toward the design for the pencil signed color etchings included in the 1956 edition of 100 Etchings for the Bible. It is hard to imagine going too long without adding new works by Joan Miro, and the links will take you to our newest acquisition, one of Miró's most surrealist prints, a 1934 pochoir showing a man and a woman acquired March 15, 2007!

We continue to acquire works by German Expressionists including woodcuts and lithographs from the teens and early 1920s by Barlach, Gott, Grosz, Heckel, Hofer, Kandinsky (10 woodcuts from Klange in a special edition of 100 impressions—signed on the justification page by Nina Kandinsky—with a special drystamp monogram), Kaus, Kirchner, Klee (from 1919 and 1920), Kokoschka, Kollwitz, Ludwig Meidner (a beautiful signed portrait of Frau Bella Chagall from 1922), Schmidt-Rotluff, and Max Slevogt from Die Aktion and Der Bildermann, German periodicals that allowed artists to try to react to the war and to the seething discontent and social transformation that followed from it. In addition, we are currently showing two drawings by Georg Tappert on the web and will add a third shortly. We also have a number of signed lithographs by Kokoschka (from 1913) reflecting his obsessive but doomed love-affair with Alma Mahler and five (of the seven) signed woodcuts for The Transformations of God by Barlach. We will also be adding pages for some lesser known German Expressionists as time permits, including Wilhelm Wagner, who specialized in nudes and was influenced by Egon Schiele in his post 1920 works. Among the Russian avant-garde, we have recentlyacquired a wonderful gouache by Nataliya Goncharova.

Surrealism is also of great interest to us, and we in addition to the Miró and Magritte works mentioned above, we have added to the web fifteen wonderful surrealistic lithographs, eight etchings, some screenprints, and a watercolor by Leonor Fini, and a Dorothea Tanning lithographWe have also acquired a drawing by the late Jean Tinguely, Niki de Saint Phalle's husband and a wonderful large Niki de St. Phalle lithograph featuring several of her Nanas. Also on view in the Surrealism show are two new additions by Picasso, both etchings with aquatint, one from the Sable Mouvant suite, the other from the 156 suite (published in an edition of 50 with xx numbered artist's proofs, of which ours is one) with the stamped signature, six new large color lithographs (one an Hommage a Picasso, five from the Pleni Luni / Full Moon Suite) by Wifredo Lam. We have also acquired a small but wonderful gouache by Lam, which cacn be seen here.
We will shortly be adding many more new works, including a large screenprint by Jules Olitski and paintings on paper and canvas by Jonna Rae Brinkman on the theme of 9/11/01 (Brinkman's studio in Brooklyn was just across the river from where the World Trade Center used to be; she began working on a series of pieces on the morning of 9/11, shortly after the second plane hit). In the meantime, you can console yourselves by browsing the 11 pages of Garache aquatints, lithographs, drawings and paintings we have added to the web.
We will periodically try to update this page, so please check to see what's new whenever you visit.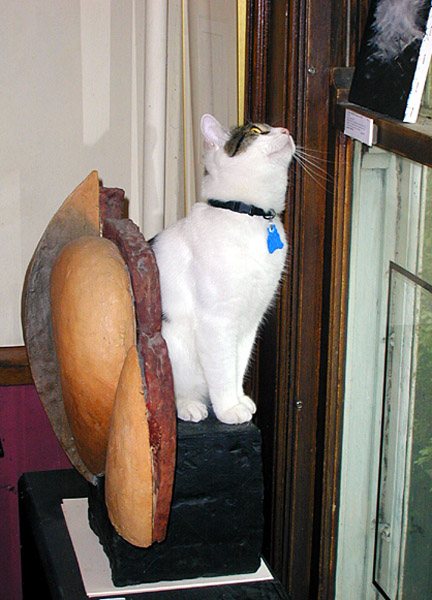 Joan Gardy Artigas (b. 1938), Objet charnel. Ceramic sculpture, 1983. Size: 530x540x320mm.

Gizmo, our former gallery cat, shows how he looks at art, staring intently to see whether it might be edible. Gizmo, alas, is mostly staring at art in Josh and Jess's house in Cudahy WI, and the gallery, while less covered in cat hair, is a less welcoming place without Gizmo hurling himself at visitors' feet and insisting on being petted. And thus we see how the world goes.

Our new cat, Billy Bobcat (see below; the name is a tribute to Lucy Kelson), a former feral cat, is still very shy around people he does not know and stays downstairs.
Billy Bobcat in his roost listening to Sonja with great interest; behind her is a color lithograph by Antoni Tàpies; behind the Bobcat is the great outdoors for which he pines, but which he has left behind for a life of tuna fish, sneak attacks in darkened hallways, and unlimited petting time. Sometimes he thinks about considering his alternatives, but has not yet acted on his thoughts.
Spaightwood Galleries, Inc.
To purchase, call us at 1-800-809-3343 (1-508-529-2511 in Upton MA & vicinity) or send an email to spaightwood@gmail.com. We accept AmericanExpress, DiscoverCard, MasterCard, and Visa.

For directions and visiting information, please call. We are, of course, always available over the web and by telephone (see above for contact information). Click the following for links to past shows and artists. For a visual tour of the gallery, please click here. For information about Andy Weiner and Sonja Hansard-Weiner, please click here. For a list of special offers currently available, see Specials.

Visiting hours: Saturday 10:00 am to 5:00 pm and Sunday noon to 6:00 pm and other times by arrangement. Please call to confirm youor visit. Browsers and guests are welcome.

Privacy Policy:

We do not share information with any third party except the bank that processes our credit card transactions. We do not keep credit card information on our computer.